I hate cooking.
Abhor and despise could also be used interchangeably. So when I stumbled across a meal delivery service, Freshly, with a much different approach than season veterans like Blue Apron, Hello Fresh, or EveryPlate, I was eager to give them a try.
With Freshly, you literally just pop a meal in the microwave for a few minutes and it's ready to eat. It's a prepared meal delivery service versus meal delivery kit services (that require you still prepare and cook the ingredients).
Given how much internal grumbling happens when I have to meal plan, grocery shop, cook, and clean up, I pounced at the thought of having a pre-made meal in just three minutes.
So for 28 days, I outsourced nine meals a week to Freshly.
Here's what it's like eating microwaved meals for a month … and whether I would recommend Freshly or not.
How Does a Microwaved Meal Taste?
This was my biggest question. The answer, shockingly, is that Freshly meals taste great coming out of a microwave (you can also bake them if you'd prefer).
Seriously, if I plated a Freshly meal, I don't think the average person would know it was microwaved. Friends and family who have tried Freshly have agreed.
And even random people on Facebook!
I recommended Freshly to a friend asking for meal delivery service recommendations and someone else followed up with this: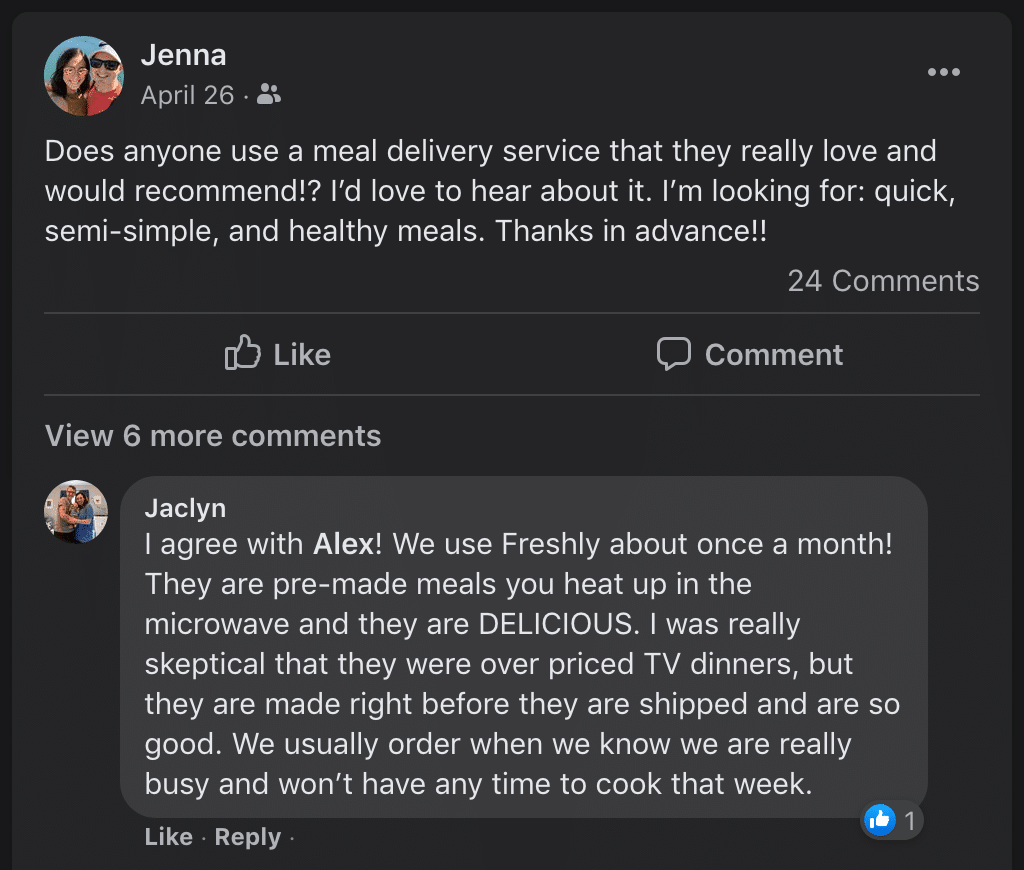 And for someone who is prone to eating out a lot (of the unhealthy variety), Freshly meals provide a much healthier and more convenient alternative. While I joke that prepared delivery services like Freshly have added years to my lifespan, there's probably some truth to it. I'm a lot less anxious or stressed when it comes to meal time and I'm eating healthier than I would otherwise.
Get $50 off your first three weeks (almost $17 off per week). This is the best discount you'll find online for Freshly.
FYI: They don't have to be consecutive weeks. You can skip weeks and only order when you want. You can also cancel after the first week—there's no obligation to order three times.
Note: If you order your first box using any of the links in this post, you'll get a generous discount and I'll get a small commission. It's a win-win for both of us! And please know I wrote this review before I knew I could earn a commission. It's genuinely my honest, unbiased experience.
Is Freshly Worth It? Who Is It For?
Obviously, if you're like me and hate everything about eating that's not the actual eating part, then Freshly is worth checking out. But as I've talked to friends and family about Freshly, many of them have also been interested for other reasons.
They're easy meal options for people coming out of the hospital (giving birth, surgeries, etc.). Another friend knows there are certain weeks where she'll be too busy or stressed to cook for her family, so plans on taking a "cooking vacation" using Freshly. It's also a worthwhile option if you're going out of town and need to ensure your spouse/kids stay alive while you're gone. ?
For me though, the biggest win is saved time and mental energy. Freshly is uber convenient. If you add up all the time you'd spend planning, shopping, cooking, and cleaning, each Freshly meal probably saves you at least an hour (if not more). That's an extra hour a day to spend with your spouse, kiddos, friends, pursuing your hobbies, etc.
In a post-pandemic society with COVID-19 severely changing peoples' day-to-day, saved time and mental energy become even more valuable to families.
Since the coronavirus pandemic, I've gone from being a working parent to a working, stay-at-home parent also in charge of three children's remote education and meals. There's just not enough hours in the day. The meals serve as a pressure-release valve for already-hectic work weeks.

Jackie D.
It's an amazing feeling opening the refrigerator, grabbing a meal, and eating a few minutes later. It's the convenience of fast food and knowing it's good for you.
Freshly is also great if you need a break from your typical meal rotation. I know I can eat tacos only so many times in a month before I get sick of them.
Having tried it for a month, I can confidently say it's worth it for me. I have less anxiety, more time, and eat way healthier. I'm not kidding you when I say figuring out what to eat each week was a stressful process for me. And their prices are actually cheaper than similar, prepared meal delivery companies.
Try Freshly and get $50 off your first three weeks. It's a low-cost way to test drive Freshly and cheaper than eating out (plus way more convenient). You can also skip weeks as needed. There's no need to order three weeks in a row.
How does Freshly work?
It's really simple and straightforward—aided by a fantastic website. They get major bonus points for designing a website (and smartphone app) that's incredibly easy to use.
1. Pick Your Meal Plan
Your choices are 4, 6, 9, or 12 meals per week (ranging from $11.49 to $8.49 per meal). I go with six meals per week and try to get a variety of meal types (beef, pork, bowls, seafood, etc.) for some variety.
2. Pick a Delivery Date
Freshly delivers throughout the week. Your first delivery will happen on that day of the following week. I have mine delivered on Wednesdays and the box usually arrives between noon and 3:00pm CST. If you're not home when it's delivered, the box will keep for an additional 12 hours.
You can also change the delivery date (my options are Wednesday through Saturday) for any given week which has been handy for me. I travel regularly for work so can easily adjust the delivery date for when I'm actually at home.
You can also skip weeks if needed.
3. Choose Your Meals
As of January 2021, you can choose from 38 entrees with new meals being introduced every couple weeks (including 10 newly introduced FreshlyFit meals that are more carb conscious). Although, sometimes they're calling meals "new" when all they've done is make some minor changes (like shift up the side).


The chicken meals with full breasts (versus meals using pre-cut chicken) are generally the most filling. While I never finish a meal still feeling hungry, I do wish the portions were larger on some of them. This might not be an issue though depending on how much you typically eat.
Long-Term Observations
While I originally wrote this post after eating Freshly meals every week for a month, I've continued using Freshly most months since May 2016. That's how I stumbled across some of the observations below …
The Positive Observations
Up first, Freshly's customer service is top notch and extremely generous.
I emailed them about a meal that was noticeably off from what I'd eaten in the past (the only time it's happened in over 300+ meals) . Without me asking, they promptly gave me credit. I thought that was a nice gesture. It made me wonder if they'd give you a credit for a meal you didn't enjoy.
Which led me to take advantage of their text support option one day while I was feeling a little goofy (as you'll kind of gather from the text thread).
Another time, the deadline to skip a week was earlier than expected because of a holiday. I didn't realize that and had a box shipped to me when I didn't want it. After reaching out, they gave me a credit for the entire box! (They've actually done this twice now when both times were my fault for not paying attention to when I would be in town.)
A bunch of things have really stood out:
The proactive credits I mentioned above.
They've replied to every question I've tweeted at them.
They rolled out a feature on their website to let you rate meals.
I've seen them try different meal sleeves, insulation materials, cooling packs, and film.
They send out feedback surveys.
All of that plus a website/app that's heads and shoulders above their competition communicates a company that values excellence. From the outside looking in, I've been really impressed with how Freshly operates.
Now that I've been a regular Freshly customer since 2016, I've found every third week is the right frequency so I don't get sick of the meals. In the off weeks, I rotate between other prepared meal delivery services (see the alternatives section below).
Also, only having to wash cups and silverware has been one word, glorious!
The Not So Positive
As much as I genuinely love and highly recommend Freshly, it's not all rainbows and sunshine. A few negative things I've noticed include:
A noticeable decrease in seafood options. From regularly having mahi mahi, cod, or shrimp options to none (as of this writing). And if there are seafood options, they're meals made with seafood (e.g. crab cakes) instead of whole seafood entrees (e.g. cod fillets).
A decrease in shredded beef quality. It's less shredded beef and more mushy beef.
An increase in pre-cut, chicken-based meals. IMHO, the quality of the pre-cut chicken isn't as high as the chicken used in meals with uncut chicken breasts. Granted, the taste and quality of these meals are still good just not as good as their full chicken breast counterparts.
Freshly Alternatives
If you enjoy the act of cooking and want to save time on grocery shopping and meal planning then Blue Apron, Hello Fresh, or EveryPlate are great options. But if you're looking for simplicity, convenience, and consistency (I lost count of how many Hello Fresh meals I've ruined), prepared meal delivery services are the winner.
In addition to Freshly, here are some of the other ones I've tried:
Currently, I rotate between Freshly, RealEats, and Factor every three weeks to keep me from getting burnt out on any one service.
Another alternative to Freshly would be local food delivery services. It seems a lot of catering business also provide this type of service. Before trying Freshly, I found one in Nashville that was decent. The food definitely wasn't as healthy or conveniently packaged, but it was still good. Had I not found Freshly, I probably would've continued with the local service.
Conclusion
From a value standpoint, Freshly is easily my favorite prepared meal delivery service (of the six I've tried) and the one I recommend to people first.
The things that stand out to me include:
It's the cheapest service I've tried.
It provides the most meal options for better variety.
The meals taste great.
An overall great experience (from the website, to the app, to their customer service).
If you're in the market, I don't think you can go wrong with Freshly.
But don't take my word for it, try Freshly yourself. Save $50 off your first three weeks (almost $17 off per week). If you don't like the meals, you can cancel after the first week.
If you have any questions, let me know in the comments (or would also love to hear your experience if you've tried Freshly).