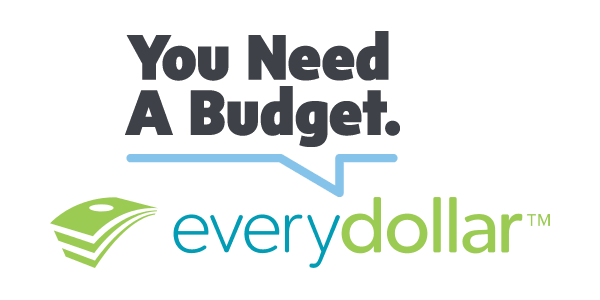 Update: The latest version of YNAB was released January 2016 and is a drastic change from the version I reviewed in this post. Read my updated review. You'll find out if my stance on YNAB versus EveryDollar still stands.
I was pretty pumped when I saw Dave Ramsey launch his new budgeting tool called EveryDollar. Especially since there was a free option.
Being a long-time You Need a Budget (YNAB) user, I was curious to see how EveryDollar stacked up.
Would EveryDollar be good enough to switch away from YNAB? Or at least worth recommending to friends who don't want to pay for YNAB?
I focused on three areas I believe are important for any app wanting to help people get their money under control.
How easy is it to:
Create your first month's budget?
Add transactions from your smartphone?
Balance your budget at the end of the month?
This post shares what I learned and crowns a winner!
Creating Your First Budget
EveryDollar
Creating a budget is a simple process in EveryDollar. Once you create an account and log in, you'll immediately be able to get started.
Enter in your monthly income and spread that amount across the different budget categories. You can use the default groups/categories given to you by EveryDollar or download example categories to create your own.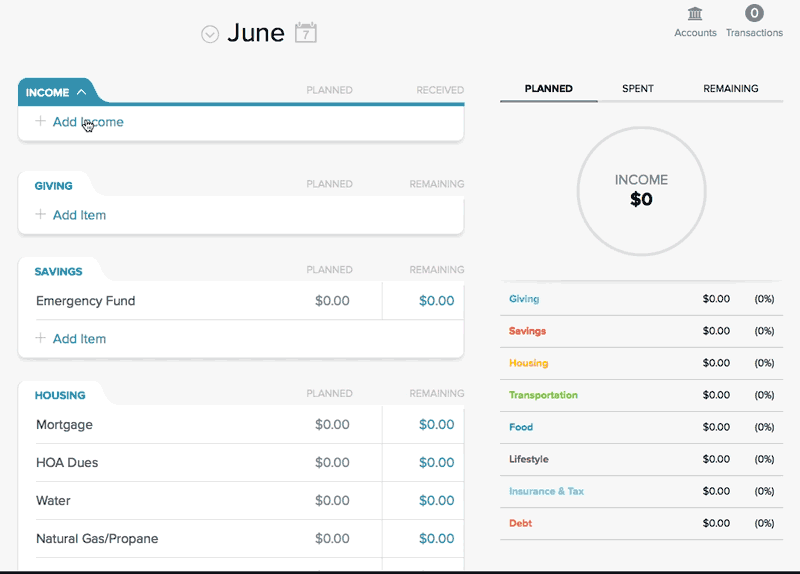 You Need a Budget
The initial setup process for YNAB is much more involved than EveryDollar.
You will need to install YNAB (on your computer) and Dropbox (for syncing to your smartphone or other computers).
Once you run the program for the first time, the walkthrough will introduce you to the app and YNAB's Methodology. However, I don't believe that's really enough to fully grasp how to create your first budget.
Even with my past experience using budgeting apps, it took me some time to really understand how to get started.
That's why I'd highly recommend everyone watch their tutorial videos or attend one of their free training classes.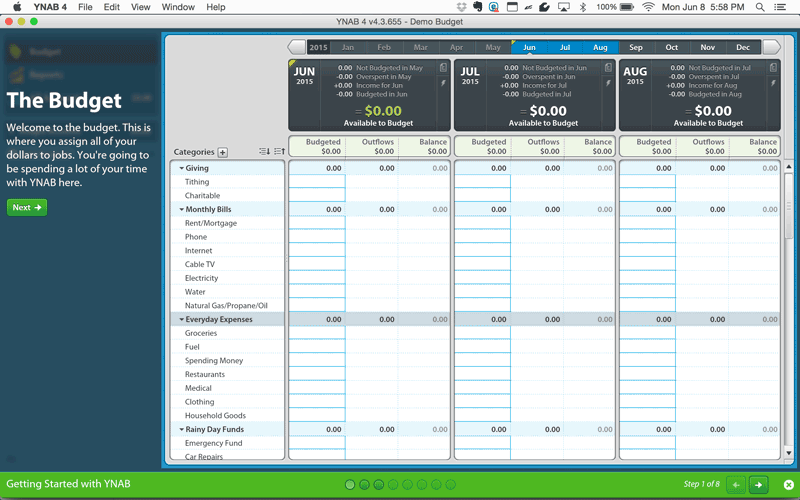 Winner: EveryDollar
There's no question here. EveryDollar is definitely a lot easier and quicker to get started with.
Nothing to install. Simple to understand.
Adding Transactions
The best way to keep track of your budget is to add each transaction as they happen. That means the mobile apps for EveryDollar and YNAB are critical pieces to budgeting success.
The focus of this section will be on adding transactions on the iPhone.
EveryDollar (1.0.3)
Just like creating your first budget, EveryDollar's iPhone app makes it straightforward to add a new transaction.
Nothing fancy here.
Type in an amount, choose a budget category and type in the merchant name.
You Need a Budget (3.2.5)

Let me just go on the record here and say YNAB's iPhone app is gorgeous. It's obvious from the start a lot of care went into designing YNAB (and how you use it).
You'll type in the same things as you would in EveryDollar.
However, the strength of YNAB becomes more apparent when you re-visit a place you've already shopped.
More details later when I declare a winner for this section.
Winner: YNAB
YNAB uses GPS to remember all the places you shop at.
YNAB uses default values whenever it can.
Both those things drastically speed up how quickly you can add a transaction.
The easier it is to use an app, the more likely you will be to use it. When it comes to staying on budget every month, this becomes an important point.
The second time you visit a store, this is how quickly you'll be able to add a transaction. Notice all I did was type in an amount and the store/category were automatically filled in for me.
On the flip side, EveryDollar requires you manually type out the store name and choose a budget category every time you make a purchase. #painful
Balancing Your Budget
I won't get into a rant here, but if you don't do this step regularly (at least once a month) then you're not really budgeting.
What does balancing your budget mean?
It means every budget category is at $0 or has a positive dollar amount before moving on to the next month's budget.
If you overspend by $50 in groceries this month, you take $50 from a different budget category (one that has an extra $50 to spare) and move it into the groceries category to compensate for the overspending.
It could also mean "sweeping" all your surplus (money you budgeted but didn't spend) into a specific saving goal.
Balancing your budget requires two things:
An easy way to move money from one category to another.
Confidence you've recorded every transaction for the month.
Now let's take a look at how EveryDollar and YNAB stack up.
EveryDollar
Turns out getting this:

To balance out to this:

Is way harder than it should be.
There's no easy way to move money around.
I had to bust out a calculator and re-calculate the new amounts for Groceries and Restaurants so that the Groceries budget would be $0.
How about ensuring all my transactions have been added properly?
This was a nightmare.
I have a bunch of recurring transactions (rent, HOA dues, subscription services, cell phone bill, savings goals, etc.). All of those have to be manually added. EveryDollar doesn't support recurring transactions.
And I don't always remember to add transactions on my phone whenever they happen. So how do I know which transactions I forgot?
Lots of manual labor.
I had to look at statements from each banking account and check line-for-line if I entered the transaction into EveryDollar.
I wanted to gouge out my eyes. There's no easy way to do this.
You Need a Budget
All things bad in this department for EveryDollar turned out to be all things good in YNAB.
You can have scheduled (recurring) transactions.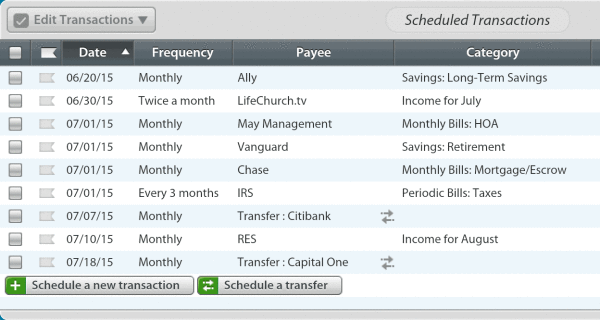 And it's really simple to move money around because YNAB has a built in calculator.
YNAB also provides a handy feature for reconciling. While you still have to compare bank statements line-for-line (similar to EveryDollar), YNAB makes this process easy (and can guarantee accuracy).
Check out this video for how it works.
Winner: YNAB
By a huge margin.
I didn't realize this was a deal breaking feature for me until the end of the month when I started balancing my budget.
For a budget to work, you have to be confident the numbers are right. Otherwise you may be spending money you don't actually have.
Without a way to reconcile the numbers in EveryDollar, the process of checking for accuracy becomes a painstakingly slow and error-prone process.
Budgeting already requires a good amount of discipline. Make that process harder and you drastically reduce a person's desire to keep up with it.
This is where YNAB clearly shines. It's extremely easy to balance your budget each month.
Conclusion
YNAB is the clear winner here.
Once you get over the initial learning curve, it's easier to use and stay on top of your budget. There's a ton of resources; including an incredibly helpful community willing to answer all your questions.
And did I mention both the desktop and iPhone apps are beautiful? ;)
One thing worth nothing about EveryDollar…
One of my reservations with it could be alleviated with an EveryDollar Plus subscription (currently $99/year). EveryDollar Plus will automatically import transactions from your bank so that you know every transaction has been accounted for.
However, the benefit is contingent on EveryDollar supporting your bank. Smaller banks or credit unions may not be supported which would defeat the purpose of having a Plus subscription.
And $99/year is a terrible deal compared to a one-time fee of $54 for YNAB (normally $60 but you get $6 off with this link).
I would wholeheartedly recommend YNAB to anyone serious about getting their money under control.
Featured Download:
Regardless of what app you use, having the right budget categories
before
you start is a huge time saver.
Download a list of default categories
used by YNAB, EveryDollar, Mint, and other popular budgeting tools.
Unfortunately, I would not recommend EveryDollar to anyone. While it excels at simplifying the initial creation of a budget, it does not provide useful features/tools to keep the budget going strong over time. EveryDollar is great for your first month's budget, but terrible from month-to-month. And that's where you absolutely need a budgeting app to excel in.
What budgeting tool do you use? What do you like about it?