As of January 2016, You Need a Budget switched to a web based, subscription model for their software. The update was a pretty significant change from the previous version.
*cue lots of irate customers*
The forums were going crazy. It. Was. Nuts. A lot of it had to do with a change in feature set, how they beta tested it (targeting new YNAB users and excluding feedback from existing users), and the new monthly fee.
But before I drew any conclusions, I wanted to give the new You Need a Budget a fair chance first.
So here's a review comparing the new YNAB to the old YNAB. For this review, YNAB means the new web based, subscription version and YNAB 4 refers to the old downloadable version.
I used YNAB and YNAB 4 side-by-side for about a month and a half in order to answer these questions:
Is YNAB worth using for new users?
Should YNAB 4 users upgrade to YNAB?
Would I recommend YNAB over Mint or Dave Ramsey's EveryDollar?
Is it time to look for YNAB alternatives?
Well, here we go. Let's jump in and see what I like about YNAB compared to YNAB 4.
The YNAB Good
Direct Import
This was probably one of the more common knocks against YNAB 4–it didn't automatically import transactions from your financial accounts. Mint has this feature. So does EveryDollar. And now YNAB does too!

Goals
YNAB makes it a lot easier to save towards specific category goals. There are three ways to use them.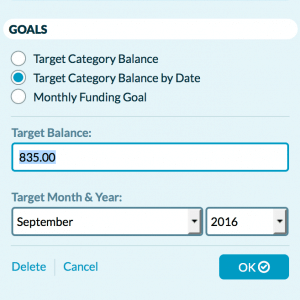 Target Category Balance. This is useful when you have a larger expense or savings goal you're working towards (e.g., down payment on a house or an emergency fund).
Target Category Balance by Date. Similar to the above but with a due date. I buy a new iPhone every two years. This type of goal is handy for that. I say I want to save X dollars by Y date and YNAB tells me how much to save each month.
Monthly Funding Goal (e.g., $50/month for car maintenance)
I found this to be a helpful feature. It removed a lot of manual calculations I used to do in order to figure out how much to save each month.
Quicker Reconciliation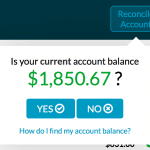 In YNAB 4 you used to have to reconcile each transaction individually. The direct import feature now makes reconciling accounts much quicker (assuming you've kept on top of adding transactions as they happen).
It's as easy as clicking Reconcile Account and then Yes if the account balance lines up with what your financial institution says. If it's off, the reconciliation process is similar to YNAB 4 and requires some manual work. But more often than not, I had the same balances so reconciliation was a breeze.
Moving Money is Easier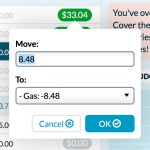 Moving money from one category to another is a pretty common task. It wasn't a terrible process in YNAB 4, however, YNAB makes it even easier. You just click on a category balance and tell it how much money to move where.
They've also added this ability to the mobile apps. Something that was missing from YNAB 4.
The YNAB Bad
Missing Features
No ability to search transactions
No reporting capabilities
No ability to manually import statements (useful if YNAB doesn't support direct import with your financial institution)
I'm confident YNAB will add these in the future. So it's just a matter of being patient and keeping an eye on the release notes.
None of these were deal breakers for me, but they could be for some users.
Can't Rollover a Negative Category Balance
YNAB removed the ability to rollover a negative category balance to the next month. I know that's (typically) not good budgeting practice but you'd be surprised how many valid uses there are for it! For example, expenses you plan on being reimbursed for.
In YNAB 4 you had a couple options. I could carry it over to the next month as a negative balance (my preferred method) or let YNAB automatically bring the category balance to zero (by taking money from what I have available to budget for the next month).
YNAB only implements the latter in a weird way I don't fully understand. Whatever it does, it jacks with my budgeting flow and makes me feel like I have less control of how I want to categorize my money.
Conclusion
Let me go back and answer the three questions I posed above in reverse order.
Is it time to look for YNAB alternatives?
Definitely not. While I will not be switching to YNAB yet, I will be keeping an eye on it. I feel like YNAB is going through puberty and experiencing growing pains. It's clumsy and awkward, but there's a lot of potential for what it will become.
We have to remember YNAB 4 has had four major versions to evolve and work out the kinks. Those four versions have polished it into the mature budgeting app so many raving fans adore. It's only been two months since YNAB was publicly released.
Because it's still so early, I'm going to give it until the end of the year before I really consider this question.
Would I recommend YNAB over Mint or Dave Ramsey's EveryDollar?
Absolutely. Even though YNAB is a relatively young product, it's already a much better budgeting tool than Mint or EveryDollar.
You can read my review of YNAB4 and EveryDollar to get a better idea of where I feel EveryDollar falls short. And don't get me started on Mint. I wouldn't touch Mint (for budgeting) with a ten foot pole. It's so commercialized (designed to sell you stuff) and was definitely not built for budgeting.
It's also worth mentioning…no other company has more comprehensive budgeting classes, guides, and resources. This is one thing I love about the company. They are passionate about helping people gain control of their money.
Should YNAB 4 users upgrade to YNAB?
I'm going to say for most YNAB 4 users, no. There are a few new features in YNAB, but it's also missing other features. I don't believe the new features are worth the recurring cost. You have a mature, very capable budgeting app in YNAB 4 whereas YNAB is still pretty basic and limited.
So it's hard to justify $5/month when you have a very good app that won't cost you another penny.
YNAB 4 is guaranteed to be supported until the end of 2016. During that time frame, YNAB could evolve into a much more mature product. I'll continue using YNAB 4 until YNAB catches up.
Is YNAB worth using for new users?
If you're brand new to YNAB and it's methodology, I would still recommend YNAB. As a new YNAB user, you have the luxury of learning how to use YNAB and it's updated methodology from scratch without any "baggage" from the YNAB 4 days.
Anybody else feel this way?
Before I wrap up this post, I want to throw this out there for discussion. Please let me know if you agree/disagree in the comments.
From my perspective, the switch to a web based, subscription model wasn't just a change in technology or business model. It was also an update to the YNAB methodology and how YNAB (the tool) guides users through that methodology.
YNAB more strongly attempts to provide guard rails for new users. But in doing so it feels too strict. Like it's enforcing a very black and white method of budgeting. I believe a lot of YNAB 4 users are frustrated because the flexibility YNAB 4 provided is gone. That flexibility allowed for common, real-world budgeting nuances without any issue.
YNAB 4 let people live in a little bit of gray and allowed for some exceptions to the rule. YNAB now feels like it's the YNAB way or the highway.
If the company can find a way to balance the tension of enforcing best practices but allowing for exceptions then they'll be onto something special with the evolution to YNAB.
That's my biggest wish for YNAB. Bring back some of YNAB 4's flexibility.
So there you have it. Everything in my brain about YNAB and YNAB 4. Curious to know your thoughts as either a new user researching the right tool or as an existing YNAB 4 user. Talk to me in the comments!
YNAB 4 Still Available
I mentioned earlier that YNAB 4 will be officially supported until the end of 2016. The chances are high it'll continue to work well for longer than that. If you're a little hesitant to subscribe to YNAB, know you can still buy YNAB 4 and read the YNAB 4 guides.