It's been almost two years since You Need a Budget switched to a web based, subscription model for their software. When I first tried the new version in January 2016, there were significant gaps in features that prevented me from switching.
Now that YNAB's had a couple years to evolve, it's time to take a second look.
So here's a review comparing YNAB to the old YNAB. For this review, YNAB means the web based, subscription version and YNAB 4 refers to the old, downloadable version.
I used YNAB and YNAB 4 side-by-side for about a month and a half in order to answer these questions:
Is YNAB worth using for new users?
Should YNAB 4 users upgrade to YNAB?
Would I recommend YNAB over Mint or Dave Ramsey's EveryDollar?
Is it time to look for YNAB alternatives?
Well, here we go. Let's jump in and see what I like about YNAB compared to YNAB 4.
Note: If you sign up for a free trial using links in this post, I'll get a small commission. And please know I wrote this review before I knew I could earn a commission. It's genuinely my honest, unbiased experience using both apps.
The YNAB Good
Direct Import
This was probably one of the more common knocks against YNAB 4–it didn't automatically import transactions from your financial accounts. Mint has this feature. So does EveryDollar. And now YNAB does too!


Goals
YNAB makes it a lot easier to save towards specific category goals. There are three ways to use them.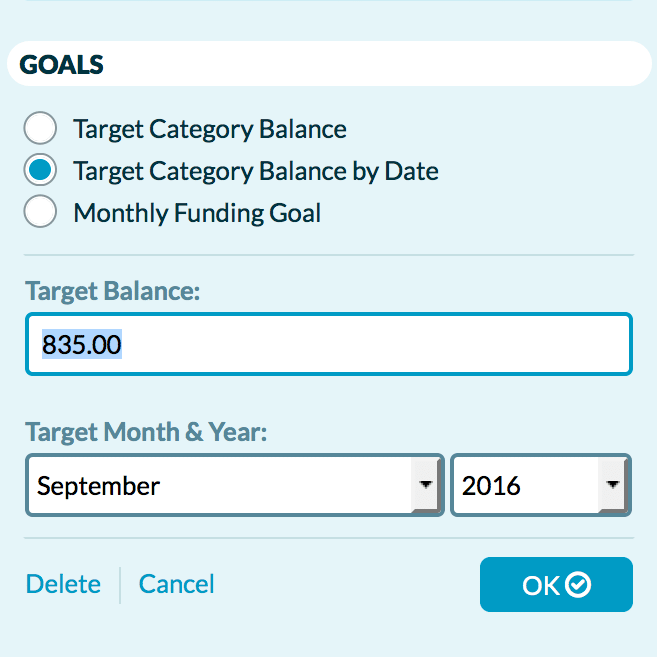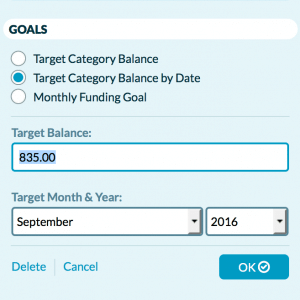 Target Category Balance. This is useful when you have a larger expense or savings goal you're working towards (e.g., down payment on a house or an emergency fund).
Target Category Balance by Date. Similar to the above but with a due date. I buy a new iPhone every two years. This type of goal is handy for that. I say I want to save X dollars by Y date and YNAB tells me how much to save each month.
Monthly Funding Goal (e.g., $50/month for car maintenance)
I found this to be a helpful feature. It removed a lot of manual calculations I used to do in order to figure out how much to save each month.
Quicker Reconciliation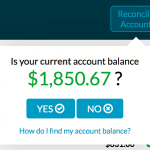 In YNAB 4 you used to have to reconcile each transaction individually. The direct import feature now makes reconciling accounts much quicker (assuming you've kept on top of adding transactions as they happen).
It's as easy as clicking Reconcile Account and then Yes if the account balance lines up with what your financial institution says. If it's off, the reconciliation process is similar to YNAB 4 and requires some manual work. But more often than not, I had the same balances so reconciliation was a breeze.
Moving Money is Easier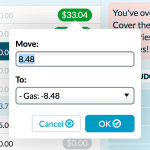 Moving money from one category to another is a pretty common task. It wasn't a terrible process in YNAB 4, however, YNAB makes it even easier. You just click on a category balance and tell it how much money to move where.
They've also added this ability to the mobile apps. Something that was missing from YNAB 4.
The YNAB Bad
Missing Features
No ability to search transactions (added October 2016)
No reporting capabilities (added October 2016)
No manual import of  bank statements (added June/July 2016)
The good news is all those features have been added. Just a bummer it took longer than expected for search and reports.
Can't Rollover a Negative Category Balance
YNAB removed the ability to rollover a negative category balance to the next month. I know that's (typically) not good budgeting practice but you'd be surprised how many valid uses there are for it! For example, expenses you plan on being reimbursed for.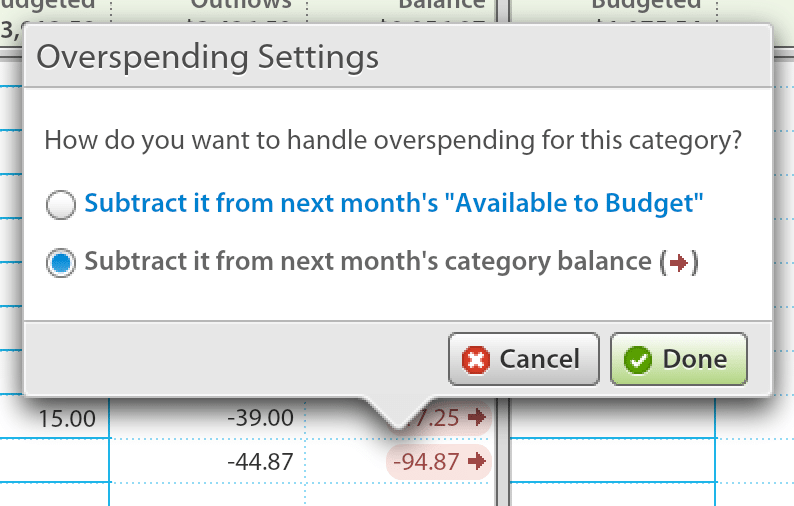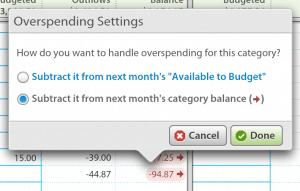 In YNAB 4 you had a couple options. I could carry it over to the next month as a negative balance (my preferred method) or let YNAB automatically bring the category balance to zero (by taking money from what I have available to budget for the next month).
YNAB won't let you move to the next month with a negative balance. This was the deal-breaking feature for me because it makes it difficult to track reimbursable expenses.
However, I did some research and found a solution I liked. Read about it here. It involves creating an off-budget tracking account and transferring any reimbursable expenses to it.
It was initially a little confusing to understand, but as one commenter said, it made a lot more sense when I went through the steps in my YNAB account.
Here's a short video of what it looks like.
I like it because it creates an easily accessible place for tracking reimbursements (it's in the sidebar). With a quick glance, I can tell how much is outstanding and who owes what.
One caveat. This works great if your reimbursements are on a credit card account.
It gets a bit trickier when the reimbursement is from a checking/savings account. In this situation, YNAB will take money out of the next month's budget to compensate for the overspending. In order to avoid that, I cover the overspending with a different budget category in order to not impact the amount available for budget next month. I then mark where that money came from in the memo field so that when the reimbursement comes in, I can put the money back.
Not ideal, but I rarely have reimbursements on my checking/savings account, so not a big deal.
Conclusion
Let me go back and answer the three questions I posed above in reverse order.
Is it time to look for YNAB alternatives?
Definitely not. All the missing features from the initial launch have been added. So in it's current form, YNAB covers all the main bases. It does everything most users will need from a budgeting app. I still haven't found a budgeting app that's as polished and tailor made for budgeting as YNAB.
Once you understand it's methodology and how to use the app, you come to appreciate how well built the app is. Everything fits like a glove (with the exception of carrying over negative balances). ;) Where other budgeting apps feel like Honda Accords (they get the job done), YNAB feels like a Ferrari (it's pretty and high-performing).
While I was initially hesitant to move full-time to YNAB when it was first released, I've done so now and have been using the web-based version for a year.
With a year's worth of usage, I can say YNAB adds enough value to justify the recurring expense. The key features for me are:
Goals make it easier to remember and know how much to budget to hit my savings goals.
Quicker reconciling because of auto-importing of transactions. Seriously, a big time saver.
Quick budget options like budgeting the average amount spent over the last year in a category.
A better iPhone app with budgeting capabilities.
While YNAB 4's iPhone app was great, it only let you add transactions. The current YNAB app has 90% feature parity with the web version. Meaning you can do all your budgeting from your phone if you want. I still prefer using a computer for most of my budgeting, but the new app is nice for some things (namely, approving imported transactions and covering overspending quickly after adding a transaction).
Would I recommend YNAB over Mint or Dave Ramsey's EveryDollar?
Absolutely. Even though YNAB is a relatively young product, it's already a much better budgeting tool than Mint or EveryDollar.
You can read my review of YNAB4 and EveryDollar to get a better idea of where I feel EveryDollar falls short. And don't get me started on Mint. I wouldn't touch Mint (for budgeting) with a ten foot pole. It's so commercialized (designed to sell you stuff) and was definitely not built for budgeting.
Not to mention, no other company has more comprehensive budgeting classes, guides, and resources. This is one thing I love about the company. They are passionate about helping people gain control of their money.
Should YNAB 4 users upgrade to YNAB?
Tough call. I'd say yes for most users. In my opinion, it's better to upgrade sooner rather than later.
While it does stink YNAB is now a recurring subscription, I'm fine paying for it. The value YNAB adds to my life is worth the price. Some of the new features like automatic import, faster reconciliation, ease of moving money, and quick budget options are noticeable improvements from YNAB 4.
If you upgrade, there is a way to import your YNAB 4 data into YNAB. When I tested the import feature back in early 2016, it worked without a hitch. But this time around, some of my numbers didn't match up. Rather than take the time to troubleshoot, I just started a new budget from scratch. I did save my YNAB 4 data in a separate budget though so I could reference later if needed. Hopefully you have better luck importing than I did.
The Toolkit for YNAB browser extension is also worth checking out.
However, I know there's still a vocal contingent that will ride out YNAB 4 until it dies. The good news is YNAB Classic was updated to support Dropbox's new API. I was initially worried that wasn't going to happen which would've rendered the app useless after June 2016. So for the diehard YNAB 4 users, the app will continue working for the foreseeable future.
The only thing that would break the app is an incompatible macOS or iOS update which I don't think will happen with either of the next updates. So that gives YNAB 4 a good shot at working through 2018.
Is YNAB worth using for new users?
If you're brand new to YNAB and it's methodology, I would still recommend YNAB. As a new YNAB user, you have the luxury of learning how to use YNAB and it's updated methodology from scratch without any "baggage" from the YNAB 4 days.
Final Thoughts
Through all of this, I've learned a valuable life lesson.
People are naturally resistant to change. I'm no exception. In all honesty, the initial release of YNAB would've been fine for me. I was just too stubborn to adapt my existing budgeting process. I could've easily found my "red arrow" workaround back then but I didn't want to.
Ironically enough, I've been pondering what it's like to get older. I've seen several people at later stages in their life struggle. Partly because I believe they're holding onto the past and not embracing the future. They believe the best days are behind them.
Honestly, I don't want to live like that. I want to believe the future will always be better than the past. But in order to do that, I have to embrace change and be willing to adapt.
So that's one reason why I've decided to upgrade. YNAB 4 is the past. YNAB is the future. I believe YNAB will continue to evolve and add new features YNAB 4 could only dream of.
#endrandomness
Where have you landed? Are you going to upgrade or look for YNAB alternatives? What are your reasons?