Every year, I find myself exploring far and wide for the best the world has to offer. I scour reviews for books, movies, and TV shows. I install and try a lot of iPhone or Mac apps until I find the best one. I listen to different podcasts. I research products and services before I spend my hard-earned money.
Which means at the end of the year, I have a list of things I can confidently recommend based on my experience.
Below you'll find my collection of those things from 2017 grouped into various categories.
If you try any of these things, I hope you'll find as much joy in them as I have!
Books
The Fifth Season by N.K. Jemisin
I tend to read mostly young adult fiction. "Mindless reading" I like to say. ;) And while this book falls in that category, the storytelling feels much deeper and stronger than most books in the genre. There were points when I had a physical/emotional reaction to how the story was unfolding.
Something I can't remember happening with any other book.
The book won a Hugo Award in 2016 for best sci-fi or fantasy novel. And then the second book in the series, The Obelisk Gate, won it in 2017. The last author to win back-to-back Hugo Awards was Orson Scott Card for the Ender's Game series.
Since I loved that series, I was excited to read this series. It didn't disappoint.
My friend said, "it ain't world changing, but it's as fun as popcorn can be, and doesn't waste your time." I wholeheartedly agree. It's a quick, easy read that takes you on an enjoyable ride. The series is similar to Ender's Game, The Hunger Games, and Divergent.
iPhone Apps
Hiya – Call blocking for a better phone experience
Since installing the app, I've noticed a significant decrease in the number of robocallers, telemarketers, and spammers that ring my phone. Most just go straight to voicemail (after enabling that setting).
The ability to identify an unknown number has also been helpful on multiple occasions. Like when someone texts you but you don't have their number saved.
Splitwise – Split expenses with friends
Total life saver if you're tracking multiple expenses across multiple people. Log who paid for what and Splitwise tells you who owes who what. One feature I really like is it can combine multiple payments into as few as possible. For example, if Friend A owes Friend B $10 and Friend B owes Friend C $10, the app will just tell Friend A to pay Friend C $10.
iPhone Games
Blackbox – A refreshingly oppressive puzzle app
If you like puzzle games, just play it. But be warned, the game will drive you mad. And you'll be tempted to look up solutions online. I daresay you can't complete all the puzzles without some level of "cheating."
I did. #confession
Severed – Battle a host of disturbing monsters
This an RPG-style game with great combat mechanics and visuals (why it won an Apple Design Award in 2017). The game is sufficiently hard, requiring strategy and skill. You can't just blindly slash your way through the game.
Mac Apps
Bear – A beautiful, flexible writing app
I'd been using Ulysses as my daily note-taking app. While I love (and still use) Ulysses for long-form writing (blog posts), I merely tolerate it for everyday notes. Namely because of the way it visually displays Markdown formatting. When I'm jotting down notes, I like using headers, bold, and italics.
Unfortunately, Ulysses makes those visual cues harder to see. Bear, on the other hand, makes Markdown formatting much easier on the eyes. Something that's particular useful when I use a lot of headers and formatting.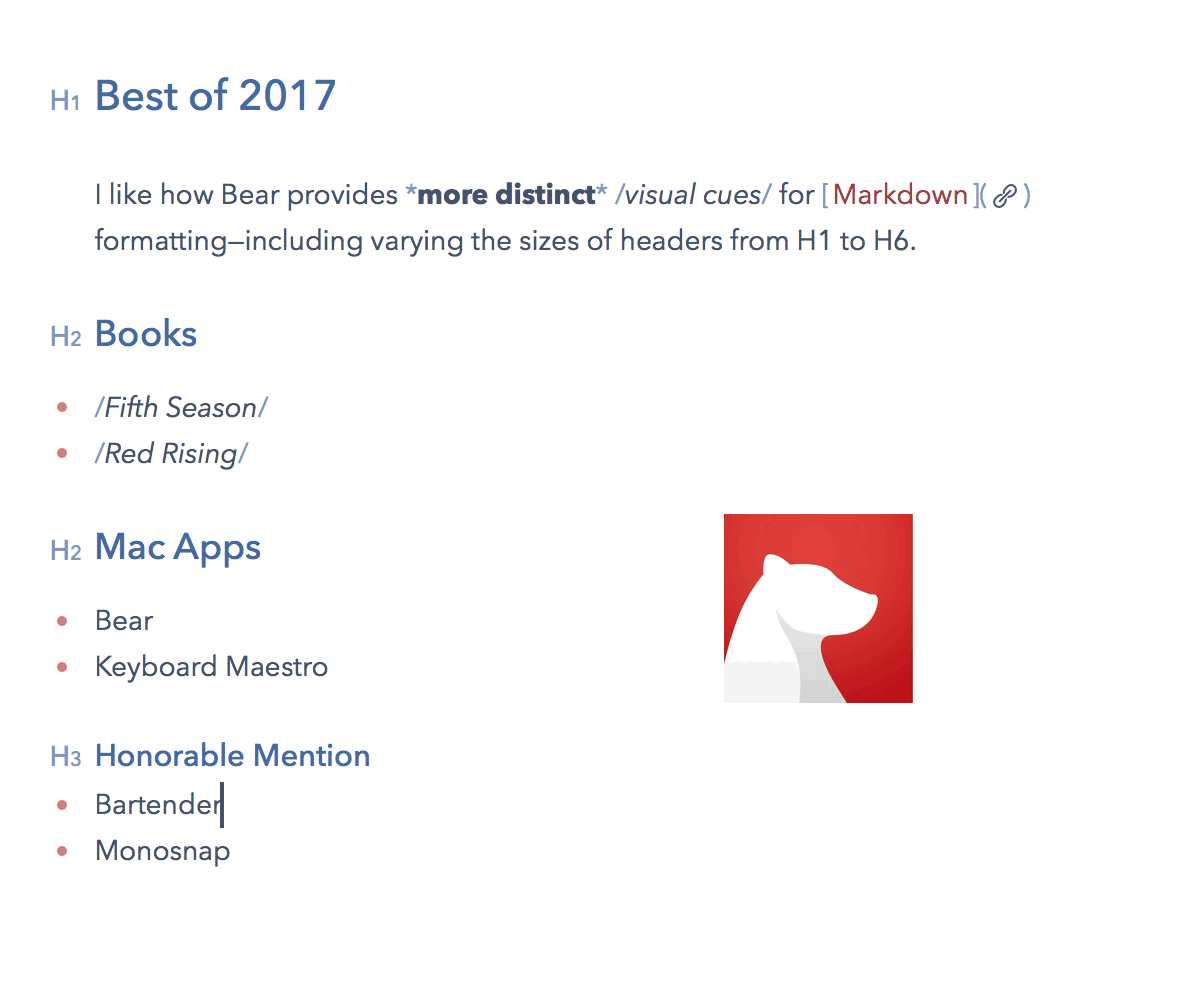 Since most of my daily notes are not long-form writing, Bear has become my primary note-taking app even though I think Ulysses is the more polished and feature-rich app.
Keyboard Maestro – Automate repetitive tasks
Efficiency. My love language. While I've know about Keyboard Maestro for awhile now, I only bought a license this year. It's been worth it even knowing I'm only scratching the surface of its abilities.
Soapbox – Quickly record and share short screencasts
I use this Chrome extension pretty regularly when submitting bug reports to app developers or when I need to record a quick how-to video. It's a great way to show someone what you're seeing as opposed to trying to describe it or tell them what to do.
Honorable Mention
Bartender – Organize your menu bar apps
The battle for cleaning up my menu bar came down to two apps: Bartender or Vanilla.
If you're wanting something simple, Vanilla is a freemium app that should satisfy most people. But I had some screencast-specific features. I suggested them to both developers and only heard back from Bartender. They liked my idea (and even expanded on it) which hopefully means those features will make it into a future release.
Because of that, Bartender got my business. Plus it provides more granular control of menu bar items.
Monosnap – Screenshot and annotation tool
Skitch has been going the way of the dodo bird for awhile now, so it was time to find an alternative. Monosnap got that nod even though I like Skitch's annotation tools more. Monosnap makes up for that with useful features like pixel-precise screenshots and the ability to record a quick animated GIF.
Miscellaneous
Aspiration Summit Account – One bank account to rule them all
I was looking to merge my savings and checking accounts into a single account. What I wanted was a bank with competitive interest rates, no ATM fees, a good web and mobile experience, and check-writing ability. Aspiration hit all those points.
Uber Credit Card – A credit card with cell phone insurance
Before I dive in here, just know I don't recommend you open new lines of credit willy-nilly. Especially if you carry credit card debt.
The biggest draw for me on the Uber card was the cell phone insurance. By paying your cell phone bill with the card (and assuming you own your phone outright), the card will insure you phone up to $600 in accidental damage or theft (up to twice a year).
Given I use my iPhone "naked" (no case or screen protector), it's nice peace of mind. Instead of paying $149 to replace the screen or $319 for other damage, I only have to pay a $25 deductible. The insurance becomes even more worthwhile next year when I upgrade to the latest iPhone and those repair costs increase to $279 and $549, respectively.
Other nice perks of the card are that it offers 4% cash back on dining out and 3% for travel expenses. That's better than the 2% I'm getting from my general-purpose card.
And all without an annual fee.
Aerial – Gorgeous Mac screensavers
Technically, I discovered this in December of 2016, but I'm including it here because it's another one of those things that gives me joy when I see. Do yourself a favor and install it. The aerials are breathtaking.
Movies
MoviePass – If you love movies, you need MoviePass in your life
Before I dive into the best movies I watched this year, I need to say my best movie purchase of the year was a subscription to MoviePass. For $9.95/month, you're able to watch up to one movie a day at most theaters in the U.S. This includes AMC, Regal, and Cinemark theaters.
I know it sounds too good to be true, but I've been a subscriber since August and it's totally legit.
My Favorite Movie
Wind River
A slow, intense, and satisfying burn of a movie.
Other Favorites
Spider-Man: Homecoming
I know. Yet another Spider-Man franchise. But this one took a different approach and was just a fun, entertaining movie.
Wonder Woman
I thoroughly enjoyed this movie. And it wasn't all because of Gal Gadot. ;)
Molly's Game
I love Aaron Sorkin. He's got a knack for creating compelling characters with great dialogue and storytelling. His directorial debut had all those things.
Honorable Mention
Thor: Ragnarok
I'm not a huge fan of the two previous movies, but this one is easily the best of the franchise. It's humor is more tongue-in-cheek than most of the other Marvel movies.
Three Billboards Outside Ebbing, Missouri
Frances McDormand is superb in the lead role. She's a hoot.
Podcasts
Dirty John
At six episodes, this true crime podcast is totally binge-worthy. And has an unexpected ending.
Up and Vanished
I haven't finished this podcast yet, but it's another true crime one that's been good enough to get listed here without knowing the ending.
Update: Now that I'm a little more into Season 1, I feel like the Case Evidence and Q&A episodes can be skipped. They remind me of filler episodes since they don't really add anything new to the story. Especially if you're listening to it after the fact, the podcast is a much more enjoyable listen without those episodes, imho.
Physical Products
Secrid Cardprotector – Minimalist wallet
I freaking love this thing. It brings me joy every time I engage the lever. Pulling a card out and putting it back in is such a silky smooth process.
KiwiCo Crates – Educational activity-in-a-box delivered monthly
I stumbled across this company by chance and was instantly intrigued since I had already been thinking of ways to maximize quality time with my nephew (who had just recently moved to the same city as me).
The crates have given us some memorable moments together. Now whenever my nephew sees me holding a crate, he gets excited and knows there's a fun activity ahead.
Nike SB Stefan Janoski Max – Casual athletic shoes
These shoes surprised me. When it comes to form and function, these might be the best shoes I've ever had. The shoes are incredibly lightweight, extremely comfortable, and look great. I've never had a pair of shoes more complimented than these (even from strangers).
Audio-Technica ATR2100 USB Microphone – The most recommended entry-level USB mic
Most podcasters or screencasters will say having a good mic is an essential investment. Since I've started doing more screencasts, I was in the market for one. Based on my research, this mic was the best sub-$100 mic and should be the only mic I ever need as a hobbyist.
Running
Pearl Izumi Thermal Run Hat – Running beanie
Pearl Izumi makes some really quality gear. At 50% off, this hat was a steal. I don't think you'll find a running hat with better value anywhere else online. While the website says it's for 35-45 degree weather, I've ran in upper teens with it and my head never felt cold.
The hat is also a little looser fitting (at least on my noggin) which I like because I run with headphones. The looser fit means the hat doesn't put unnecessary pressure on my ears/headphones.
On Cloudflow – Running shoe suitable for all types of runs
Having tried a bunch of different brands (Pearl Izumi, Merrell, Adidas, Nike) over the last few years, On is my favorite of the bunch. The quality of their construction is noticeable. Plus they look amazing.
I discovered the Cloudflow this year and it's become my go-to shoe for running (with the exception of races) . It's a unicorn of a shoe that works for both speed work and long runs.
Ronhill Classic GT Trackster Running Pants – Affordable track pants
These have been a terrific, budget pair of cold weather pants. I like that they're not tights, but still have a snug fit due to the tapered leg. And as weird as the stirrups are, they are functional.
FYI, they ship from Europe so take a little longer to arrive.
TV Shows
The Good Doctor (Season 1)
I was not expecting to like this show as much as I did. It's a heartwarming, feel good story about an autistic surgeon.
Punisher (Season 1)
Imho, this is one of the better Netflix shows in the Marvel franchise. Be aware though, it is more violent than the others.
This Is Us (Season 1)
I really do love this show. The first season definitely made me excited for the second, however, the story moves way too slowly for my tastes. So I stopped watching halfway through the second season. Regardless, it's still a terrific show with endearing characters.
Travelers (Season 1)
Honestly, I can't think of anything that stands out about this Netflix Original. But it was still a really entertaining show if you're looking for more casual watching.
Sons of Anarchy (Entire Series)
This series has made "best of" lists for years now. I was never really interested until a friend recommended it to me. Now I can say for myself that it is a really well done series. It had enough storytelling power to keep me interested across all seven seasons.
What are some things on your best of list for 2017? I'd love it if you shared them with me in the comments!