Having been a regular customer of meal delivery services since 2016, I'm always on the look out for new players—mainly for added variety. It's nice being able to rotate between a few different food delivery services each month so I'm not getting tired of the same meals every week.
So when I started seeing ads for Factor, I was curious how they'd stack up against my current favorite, Freshly.
(True story … Freshly was the very first company I ever bought anything from because of an Instagram ad.)
Since I was in the market for a new meal delivery service in my regular rotation, I thought it'd be fun to see how Factor would stack up against Freshly, and if it would be good enough to order from regularly.
To decide, I ordered six meals from Freshly one week and then six meals from Factor the next. I did this for a month which means I tried twelve meals from each company.
Based on my experience with those meals, I compared them in these six categories:
Let's take a look at who wins each round and ultimately takes the overall crown.
Long-Term Updates
January 2023
Welp, looks like Freshly is yet another meal delivery service to kick the can. They closed up shop and are now redirecting people to Factor.
November 2022
I still order from Factor about twice a month and am happy to report their quality has remained high over the last two years.
September 2020
Since publishing this review in August 2019, I've continued using both Freshly and Factor regularly. With an additional year under my belt, I've updated this review to better reflect my sentiments about each meal-delivery service.
Some key changes include:
Factor went through a name change (from Factor 75 to Factor_) and revamped their branding/website
Freshly's meal quality has taken a minor step back, IMHO
Changing the winner #plottwist
Taste
Winner: Factor
Get 60% off your first box with coupon code FACTOR276.
Note: If you order using any of the links in this post, it's a win-win for both of us. You'll get a generous discount and I'll get some extra fun money (an actual budget category of mine). This is my unbiased review as a regular customer of both companies. I've also paid for every meal myself.
As I was taking notes on each meal, I noticed myself commenting on Factor's flavor pretty consistently. Stuff like "good flavor" or "nice seasoning." This was probably aided by some meals having sauces on the side. But even without the sauces, Factor meals generally had more flavor and seasoning.
For this reason, Factor got the nod for having better tasting meals.
For comparison, I give Factor an 8 out of 10 on taste whereas Freshly gets a 6.5. And even though Freshly lost this category, their meals are still good.
Overall, both meal delivery services are winners in my book.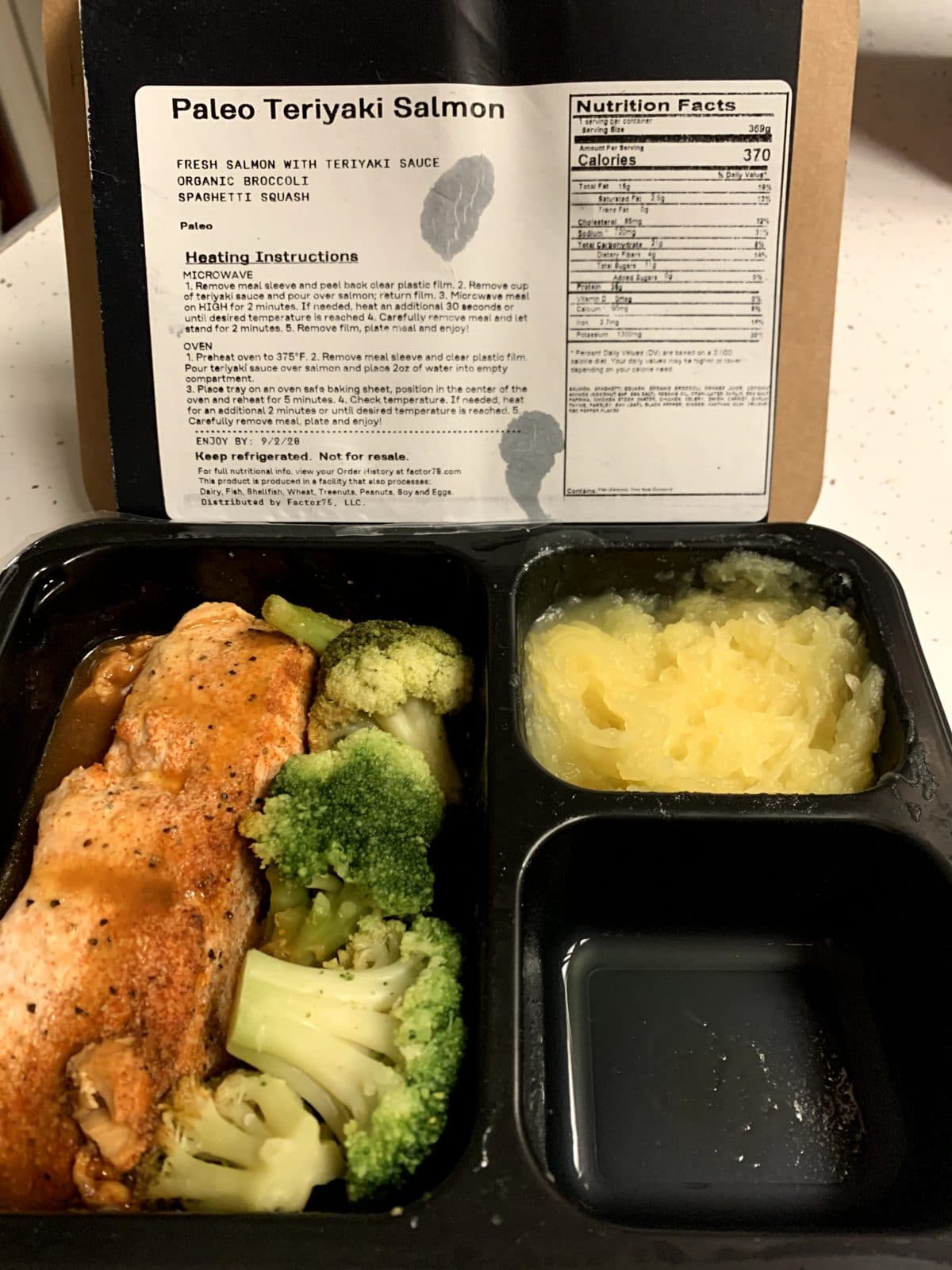 You would never know these meals came from a microwave unless you saw me heating them up first. Friends and family have all made similar comments.
And depending on your preferences, you may actual like Freshly's more subtle flavor profile over Factor's. I just like having a flavor explosion in my mouth. For example, where most normal people squeeze one lime wedge into a bowl of pho (Vietnamese soup), I'll squeeze four or five. ?
Cost/Value
Winner: Freshly (by 10-18% per meal depending on plan)
For comparison purposes, I'm looking at the 4, 6, and 12-meal plans from each (the only ones offered by both). In addition to those, Freshly offers a 9-meal plan while Factor offers 8 and 18-meal plans.
Here's a cost breakdown per meal.
| Meal Plan | Freshly | Factor |
| --- | --- | --- |
| 4 | $13.65 ($49.99) | $15 ($60) |
| 6 | $10.92 ($59.99) | $12.83 ($77) |
| 8 | | $13.38 ($99) |
| 9 | $10.92 ($89.99) | |
| 12 | $9.83 ($107.99) | $11.50 ($138) |
| 18 | | $11 ($198) |
Note: Freshly charges sales tax in Tennessee (9.25%) whereas Factor doesn't. Sales tax is included in the Freshly numbers. The base cost per meal plan is in parenthesis. Neither "charges" for shipping.
I typically order 6-meal boxes so Freshly is cheaper by $1.91/meal.
If the meal portions were exactly the same then Freshly would be the clear winner here. But Factor meals are a tad larger from what I can tell. So I did factor that in when choosing a winner in this category.
Freshly still got the nod since the size of the meals didn't justify the increased cost. I didn't feel like I was any more full from Factor's meals over Freshly's.
One interesting difference, portions for the protein and sides were generally balanced with Freshly meals. Meaning the amount of food for the sides felt appropriate for the amount of protein. However, for some Factor meals, the sides were significantly smaller than the protein.
And if you're a protein person (like me), you might prefer Factor's portions over Freshly's. Factor's seafood, pork, steak, etc. portions were almost always larger than Freshly's by a noticeable amount.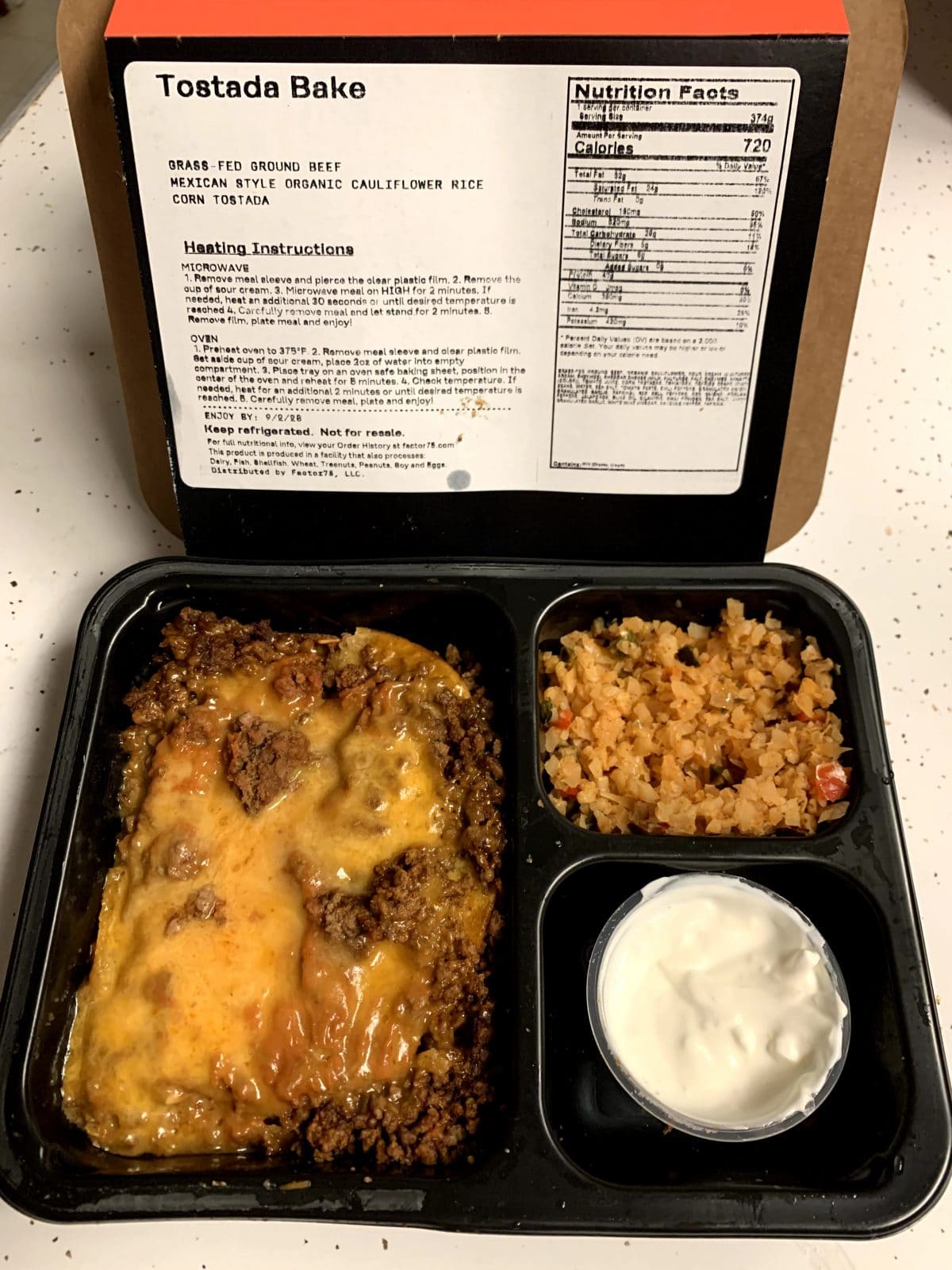 Variety
Winner: Freshly (because of significantly more meal options)
As of this review, here's a breakdown meals provided by Freshly and Factor.
| Type | Freshly | Factor |
| --- | --- | --- |
| Beef | 2 | 4 |
| Breakfast | | 3 |
| Chicken | 20 | 5 |
| Pasta | 3 | |
| Pork | 5 | 2 |
| Seafood | | 2 |
| Steak | 2 | |
| Turkey | 3 | |
| Vegetarian | | 4 |
| Total: | 35 | 20 |
If you're a big chicken fan, Freshly has you covered with 20 (!!) chicken options. These range from whole chicken breasts to meals with thigh/break chunks.
Looking at the breakdown above, there are some things that stand out:
Freshly has 35 meals while Factor only has 20.
Freshly has pasta, steak, and turkey dishes while Factor doesn't.
On the flip side, Factor has breakfast, seafood, and vegetarian options but Freshly doesn't.
Both provide six "categories" (e.g. beef, chicken, pork, etc.). Granted, these are subject to change depending on the season and what's on the menu.
For someone who typically orders six meals at a time, I was always able to get a good variety of meals across different proteins (e.g. chicken, seafood, beef, etc.).
I never felt like I was eating too much of one type of meal with either service.
So while both have similar choices across different proteins, Freshly takes home the trophy because there's more options to choose from.
Nutrition
Winner: Factor (if you're on a specific diet or have nutritional requirements)
Get 60% off your first box with coupon code FACTOR276.
This doesn't mean Factor is healthier or more nutritious than Freshly, it just means Factor has more emphasis on the nutritional aspects of their meals.
They take two different approaches.
Freshly markets itself as "healthy meals delivered to you" while Factor takes the "nutritionally optimized meals" route.
When choosing meals, Freshly groups meals by its own market-y categories (e.g. Takeout Twists, One-Bowl Nourishers, Feel-Better Food, etc.) and not based on specific diets or nutritional requirements.
You can, however, sort meals by the amount of calories, carbs, protein, total fat, and sodium. But they don't appear to cater to specific dietary needs.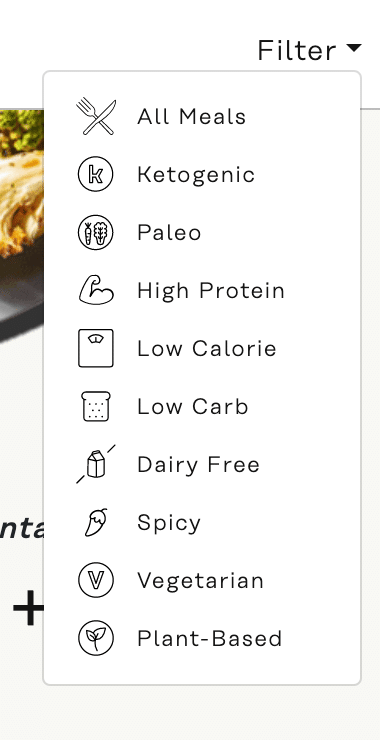 On the flip side, Factor intentionally categorizes meals by diet or nutritional requirement.
Ketogenic Meals
Paleo Meals
High Protein Meals
Low Calorie Meals
Low Carb Meals
Dairy Free
Spicy
Vegetarian
Plant-Based
Factor has a much stronger emphasis on nutrition. You can ask their dietician questions (seemingly for free via an online form), schedule a free 20-min nutrition coaching call, or buy more in-depth nutrition coaching packages.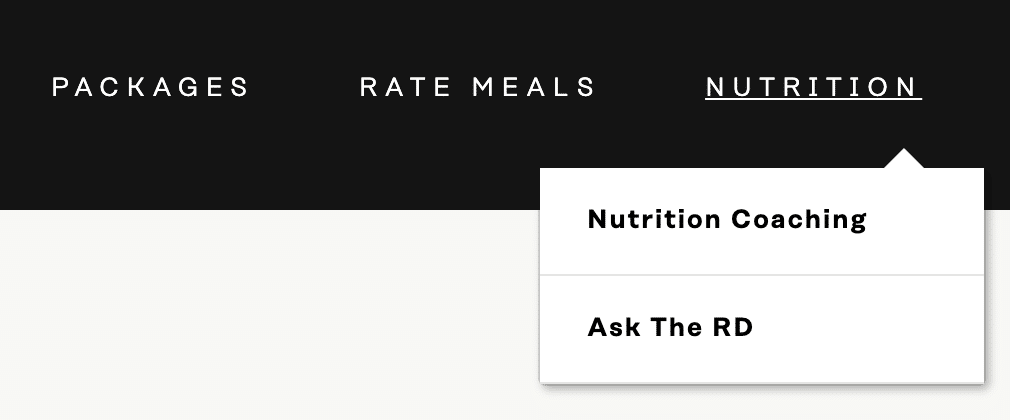 Just for fun, I did take advantage of the free 20-min consult and was pleasantly surprised at how low key it was.
I was fully expecting a hard sell for paid coaching packages or hyping Factor meals for hitting nutrition goals, but there was zero mention of those things. Even as we wrapped up and there was still five minutes left in our time.
The entire call was just the head dietician answering my questions.
Since I've been ramping up my run training and increasing my mileage (35+ miles/week), I had been wondering how increased mileage would impact my nutritional needs.
So all my questions were centered around that.
The dietician was extremely helpful, friendly, and gave me some actionable advice. It probably helped that she was a runner herself so understood that world.
Website/App
Winner: Freshly
I'm not always Judgy McJudgerson when it comes to a company's website. However, with meal delivery services where I'm regularly interacting with their website, I care a lot about usability.
How easy is it to choose meals, skip weeks, or make changes to my account?
This is an area where Freshly easily out classes Factor. While the two screenshots might look somewhat similar below, Freshly's website and app are noticeably more optimized for the user experience.
Nuances you can't appreciate until you see/use them for yourself.
For example, notice the red exclamation point icon on the K-Town Pork meal below. That's warning me it has tree nuts in it (which I've told Freshly to avoid).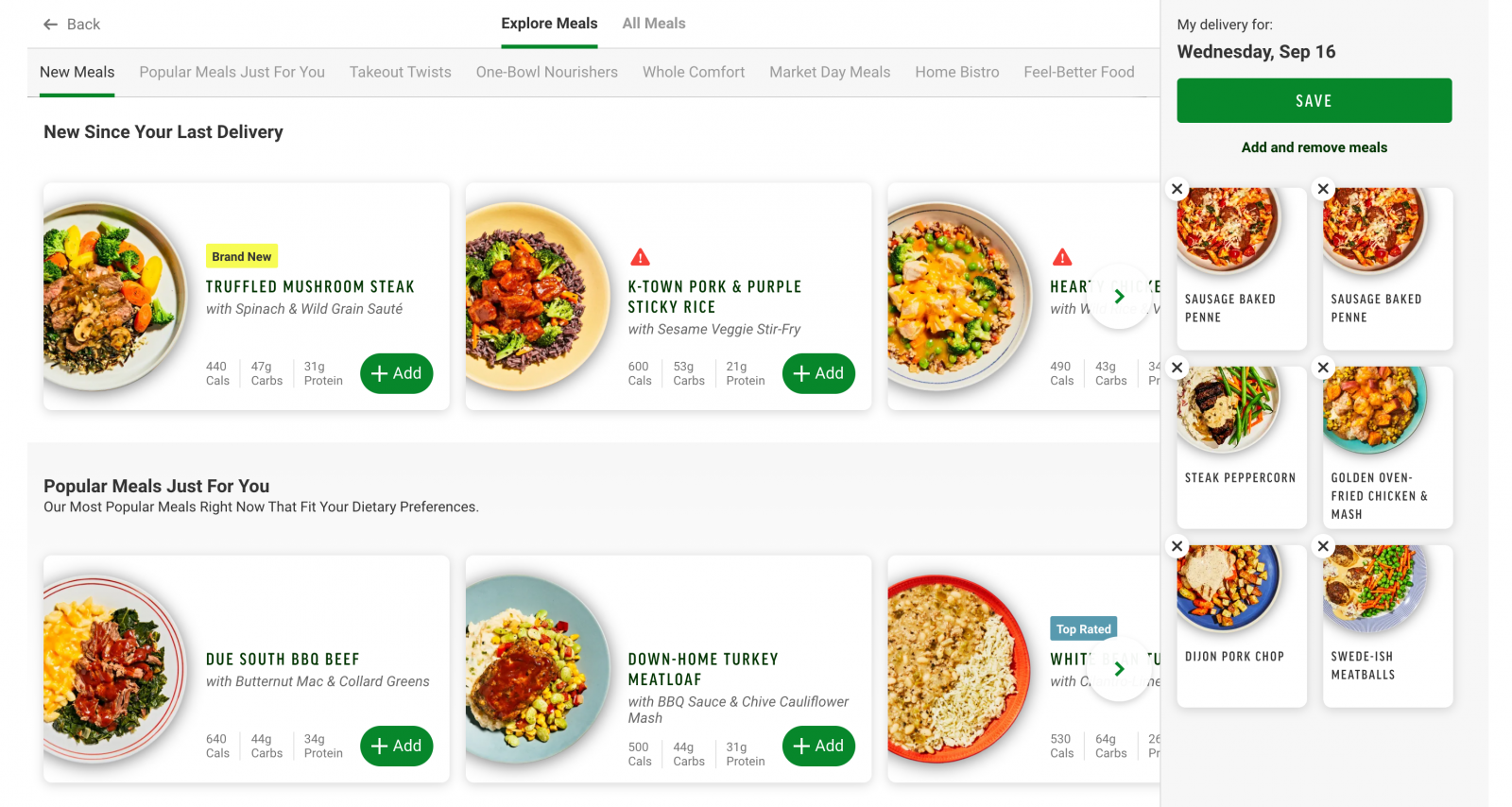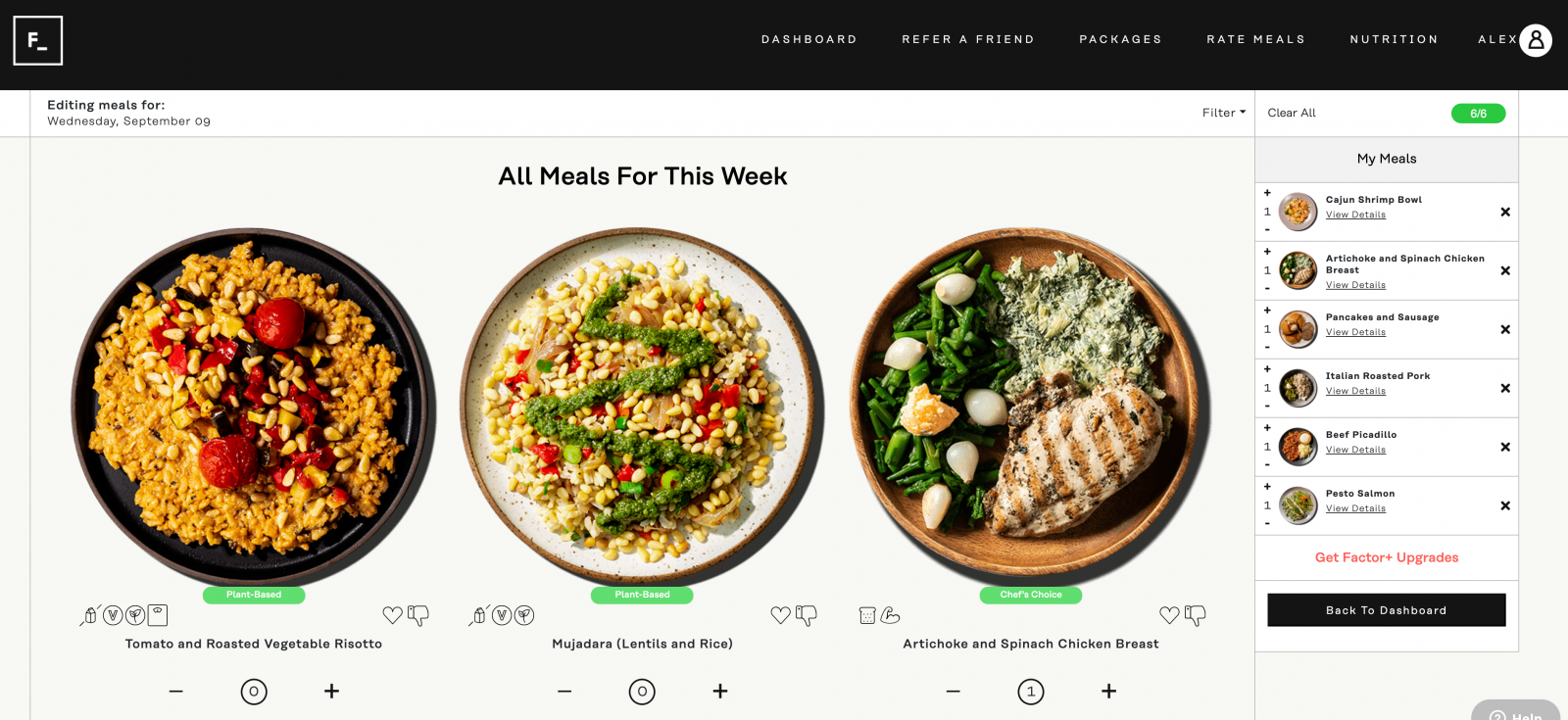 It's obvious there was a lot of intentionality put into Freshly's design, layout, and how users would perform basic tasks. Freshly's website and app is just way more user friendly.
It's the subtle things Freshly does that make me believe they cares about the details.
On a side note, having seen Factor's website evolve, it's funny to see how much has been copied from Freshly (but not done with their level of excellence). In this case, I'm thankful they copied Freshly because their old website was much worse than it is now.
Customer Service
Winner: Tie (despite wanting to choose a winner)
While I hate declaring anything a tie (because it feels like a cop out), I don't have enough experience with Factor's customer service to declare a definitive winner.
I have a lot more experience with Freshly's customer service since I've been a customer for longer. I've reached out to Freshly probably 10+ times compared to a few times for Factor.
It didn't seem fair to declare a winner when interactions with both were extremely positive. Responses times were quick, friendly, and seemingly unscripted (like an actual person with personality was on the other end).
Factor Response
Thanks for reaching out! Christina here, head dietitian with Factor 75. Technology is great until it's not and then it's just frustrating! Hopefully, I can help!

Is this the link that you were following to schedule?

REDACTED

If that link isn't working for you, please feel free to toss over a few times that work for you (along with your timezone and best phone number), and I'll schedule you from my end.
Freshly Response
Thank you so much for reaching out to us, and I'm so sorry for any confusion in regards to your forthcoming order! I'm absolutely happy to take care of this for you, as we certainly don't mean to catch anyone by surprise!

I want you to know that I will do everything I can to stop these meals from being produced and shipped. Rest assured, those meals will not go to waste! Whenever possible, we do our very best to donate all leftover meals to those in need. Waste not, want not, as the saying goes!
Freshly and Factor provide support via email, phone, or text while Freshly adds a live chat option.
All in all, I'm confident I'll be taken care of whenever reaching out to support for either company.
Worth Mentioning
Before I declare an overall winner, there are somethings worth mentioning about each service.
Freshly
You can choose what day of the week meals are delivered on. At least where I live in Tennessee, I can have meals delivered Wednesday through Saturday. Since I travel semi regularly, this is a great feature. If I know I won't be in town on Wednesday (when I typically have meals delivered), I can move it to Thursday.
In contrast, I can only get Factor meals delivered on Wednesday.
Factor
You can order meals without a weekly subscription. After your first order, you can cancel your weekly subscription but still place one-off orders without having to reactivate a weekly subscription. However, Factor does charge a higher per meal cost for this option.
Overall Winner
And the championship belt goes to … Factor!
Get 60% off your first box with coupon code FACTOR276.
When I initially wrote this review, Freshly was the winner. So why did I change it? Having ordered both meal-delivery services for over a year, I saw myself preferring Factor meals over Freshly meals pretty much every time.
The meals were just more enjoyable. My taste buds looked forward to them more than Freshly meals.
However, it's worth noting Freshly is easily the best overall value (factoring in taste, variety, and cost). Truthfully, I'd recommend Freshly over Factor to most people just because of that fact.
But for my personal preferences, I'm willing to pay a bit more for Factor meals.
Bottom line: You honestly can't go wrong with either option.
The choice really comes down to your priorities—cost, variety, specific meal categories (e.g. seafood, breakfast), and dietary/nutritional requirements.
Hopefully from this review one of the two options will stand out to you based on what I've shared.
Well, there you have it. If you've tried either service, do my observations line up with yours? Let me know in the comments!