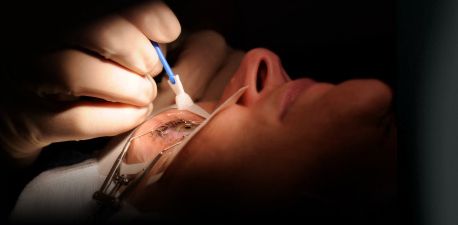 One major consequence of PRK over LASIK is the longer and much more variable healing/recovery time. It's nerve-racking having blurry vision weeks and even months after surgery.
The amount of time required to heal can be frustrating.
Since I've found comfort reading other people's recovery timelines, I offer mine in hopes that it will do the same for you. On the flip side, I've also read quick healing timelines that made me more stressed out. Hopefully my story doesn't do that to you. ;)
Just remember healing time is extremely variable; six months being the most common "worst-case scenario," but I've also read between 9 and 12 months.
Unless anything else comes up, I will no longer update this post cause I'm back to normal! w00t w00t! But if you have any questions about my recovery, feel free to leave a comment.
Also, be sure to read the comments for some other first-hand recovery experiences. Thanks everyone for commenting and sharing!
Overview
Day 1 – September 30th, 2010
Surgery happened around noon.
We're looking to correct:
Nearsightedness (-3.25 in both eyes)
Slight astigmatism
I will say one thing about the surgery itself. The doctor sprayed some fluid in my eye right after the laser zapped my cornea. During this split second I could see crystal clear. The laser above me was in sharp focus; no haze, no blurriness, just perfect vision.
This short glimpse into my future vision is what I hold onto when I doubt the results of PRK. I keep telling myself: "You saw clearly then. You will see clearly again."
Right after surgery I could see somewhere between with contacts/glasses and without. So between 0 and -3.25. I didn't have any pain, but the doctor told me to take a Lortab when I got home.
Lortab makes me nauseous, so post-op went something like this: got home, took a Lortab, slept, woke up, took another Lortab, slept and into Day 2 we go! ;)
Day 2
Eyes feel fine. No pain or discomfort. Doctor says everything looks good.
Vision is still what it was yesterday. Blurry, but better than before surgery without contacts.
While the doctor says I can't drive yet, my vision is good enough that I feel comfortable driving to the grocery store for some lubricating drops. Not sure if my eyes are in the legal limits though. ;)
Day 3
You know the feeling you get when you're in a dark room and walk outside into the sun? Your eyes feel overwhelmed and you have to shut them for a bit?
That's how my eyes felt for the first part of the day.
I tried watching college football but couldn't keep my eyes open for too long. My eyes felt overwhelmed. I couldn't keep them open for more than a few minutes before I wanted to close them.
Luckily that cleared up halfway through the day and I felt fine afterward.
Vision hasn't changed though. Still blurry.
Day 4-5
I was standing in my living room looking across to the kitchen when I realized I could see better than the previous days. Still not better (or equal to) when I had contacts, but definitely better than before.
That's good news right?
Day 6
That is until the doctor messes with you!
I go in for my second post-op appointment and the doctor takes out the bandage contact lenses.
Vision regresses to what it was on Day 1-3. Bummer! *shakes fist at doctor* "You'll rue the day!"
Day 7
I drive for the first time at night.
This is my first post-PRK venture in the dark with my new eyes. I know night vision problems is a common side effect of PRK (e.g. halos, glare, starbursts), so I'm anxious to see what night vision problems I have.
To my surprise, it doesn't appear that I have any.
Since I'm still somewhat sensitive to light, I don't stare at any street lights for too long, but as far as I can tell my night vision is what it was before I had PRK. Not seeing any signs of halos, starbursts, etc.
I'm praying this trend continues throughout my PRK recovery.
Week 1
The common thread the past week has been vision that is between with contacts and without. Basically my nearsightedness has been reduced, but not eliminated.
Luckily it's good enough that I feel safe driving because I go back to work for the first time tomorrow. I'm slightly worried about going back because I spend a vast majority of my time on a computer and I don't want to strain my eyes while they're healing.
But *shrug*. It is what it is. I gotta work to pay the bills.
There haven't been any significant improvements or regression in vision (just a small improvement on Day 4 and 5). Overall my vision has been fairly consistent since the surgery.
I will say I am surprised at how non-existent pain and discomfort has been. I've experienced no pain or discomfort this past week. Also, I don't have any problems with dry eyes (another common PRK side effect). I use the lubricating drops as directed, but never feel like I need them.
Score one for the home team!
Day 8
First day back to work.
As I mentioned earlier, I spend most of my day on a computer. Being back wasn't nearly as straining as I had expected. I did have to bump my screen resolution down to 1024×768 to see anything, but I feel good about resuming normal computer activity (with frequent breaks).
Day 9
Today was the first day I felt good about the strength of my eyes. My eyes have needed 10 to 15 minutes in the morning to fully wake up and not feel like they've just woken up from a coma. Not so much today.
Aside from the still blurry vision, they feel strong.
The eyes no longer need to be babied and I feel comfortable resuming activities I've avoided the past week (e.g. reading my Kindle and using a computer).
Day 10-12
Same old, same old . . .
Day 13
While my vision hasn't had any major fluctuations since the surgery, I can tell there are slight changes up/down. Every couple days or so I'll sense my vision is better than it has been. Usually it'll happen randomly during the day, but it doesn't last to the next day.
Today, unfortunately, was the noticeably worse day I've had since the surgery. Not horrible by any means. I could still drive and function as normal, but I could just tell my vision was worse than in the past.
Day 14
If yesterday was the worse day, today's the best my vision has been yet. How convenient since I had another appointment today. ;)
Surprisingly, my vision is somewhere between 20/40 and 20/25. Didn't realize it would be that good. I could make out the letters on the Snellen chart, but the sharpness/focus wasn't there. That's the part I miss the most from my vision. Even reading things up close (like the text on this monitor) don't have the crispness I did with contacts.
But according to my current progress, the doctor says it'll take another three weeks before my eyes stabilize.
So until then I won't worry too much.
Week 2
My vision through this past week has stayed fairly consistent. Consistently not stellar. The story of my life the past two weeks. ;)
I can detect minor ups and downs in quality of vision from day to day, but nothing significant. I've had both my best and worst seeing days in the same week. But overall, I don't believe my vision is any better than it was a week ago. Or, maybe the progress is happening so subtly that I can't tell?
Also, the doctor says to wait another three weeks for the eyes to stabilize.
In all of this, you'll hear me say my eyes are blurry a lot. I think I should define that a little more. I was nearsighted (-3.25 in both eyes). After surgery I am still nearsighted (as of right now), only less so. I can read/see fine up close, but things in the distance are blurry.
Blurry applies to distance vision (which is expected being nearsighted) but it also applies to close-up vision. In this context, blurry means the vision isn't crisp/sharp. It's slightly out of focus. So while I can read a book just fine, I can detect a hint of the words being out of focus.
The clarity just isn't there yet.
Week 3
This has been the best week by far. There's been noticeable improvement in my vision. I believe I've hit 20/20 at various points. It's been neat getting up in the morning and being able to see clearly.
My vision hasn't fully stabilized yet, but I'm finally starting to feel better about the results of my surgery. If things progress as they have I'll be a happy camper.
I also engaged in sports for the first time without any problems. Played a couple matches of tennis and a pick-up game of Ultimate Frisbee. At no point did I feel hindered because of my eyes.
There are still minor ups and downs from day to day (and within each day), but the average quality of my vision has improved. Let's say last week was 75%, this week it's been 85%.
The blurriness is slowly clearing up (both distance and close-up). I can now see objects in the distance with more focus. Books are also getting clearer, however, I am still having some blurriness when viewing computer screens.
Week 4
I'm pretty confident my vision is at or near 20/20. This makes me happy, but at the same time my vision is still not at the same quality it was with contacts.
I could see 20/20 with my contacts, but things were much more crisp.
Being able to see 20/20 is only one aspect of good vision. The part I'm missing is the sharpness and clarity. So that doesn't make me happy and reminds me there's still more healing/waiting that needs to be done.
Also, I think I am having some night vision issues. Still no halos, starburts, etc., but I feel like I've lost the ability to see detail in the shadows. It's kind of hard to describe. As I'm drive at night there are portions of what I see that appear to be completely black; where I can't see any detail. Instead of seeing an outline or shape in the shadows it all blends together into a blob of darkness.
Let's hope this isn't a permanent issue. While it wouldn't be the end of the world if it were, it's still a little weird. What if a burglar jumps out from the shadows and I can't see him!? ;)
Week 5
Overall, not much has changed from last week. The vision has stayed consistent (near, if not at 20/20) and I think the lack of clarity/sharpness has gotten a bit better.
And also, I'm positive now I am having night vision side effects. I haven't quite put my finger on exactly what it is. But it does have to do with not being able to see shadow detail. And whether it is related or not, there seems to be certain situations with lights (i.e. stop lights/car head lights) that make me sense something is different than it was prior to surgery.
I'm going to try and experiment with my night vision this upcoming week to see if I can explain what these "symptoms" are.
Week 6-7
Wow, has it already been seven weeks since the surgery? Over the past two weeks I've found myself not noticing any vision problems at all (at least during the day). So the slight issues I had looking at computer screens has gone away. It was such a gradual thing that I didn't even realize it was getting better.
I just started waking up and going about my day like nothing was wrong. Only when I had to think about writing this update did it occur to me things had gotten better.
But as I hinted at before, I still have a detectable problem seeing details in shadows at night.
Even if that doesn't clear up, I will still be satisfied with the results of my surgery. I have a follow-up appointment this upcoming week. We'll see what the doctor has to say then.
Week 8
Had a follow-up appointment with the doctor this week. According to the Snellen chart, I'm seeing just better than 20/20. I could read the 20/20 line without any problems and some of the 20/15 line. Good news there.
As far as the night vision problems I've been describing, I explained it to the doctor and he wanted me to do a little test. He wanted me to compare my night vision with someone else. His main reason being sometimes people can over-analyze too much and he wanted a comparison.
Sounds like something I would do. Pretty ingenious "experiment" if you ask me. ;)
So I did the test and my roommate could not see shadow detail any better than I could. Perhaps I am seeing normally. I've only been able to compare with one other person. I'll find a few more and see if the results are the same. If they are, that bodes well for me. That means my vision is normal and as good as it was with contacts/glasses!
From here on out I will only update this blog monthly.
3 Month
90 days! 3 months!
So here's the deal. From my last update you know I was "complaining" about some night visions issues and the comparison my doctor wanted me to do. Aside from my roommate, I didn't compare with anyone else cause I feel like I don't have those night vision problems anymore.
Now you're probably thinking to yourself it must have been psychosomatic (i.e. my brain was making me think I had issues when I really didn't), but I swear I had problems! By coincidence it cleared up after my doctor had me do the test. Seriously! ;)
I would say I felt 100% healed and fully functional at the 2.5 month mark.
Other Recovery Timelines