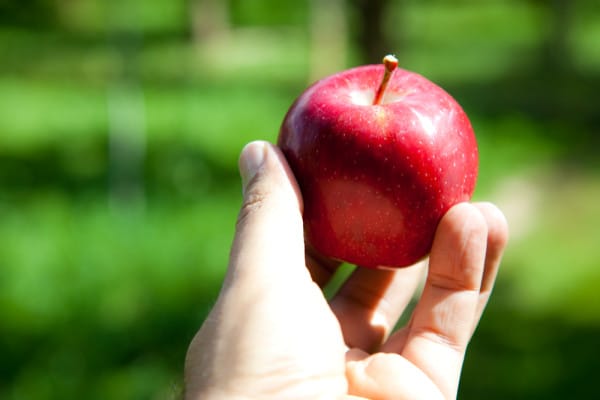 The Internet is a giant, never-ending vat of visual temptation.
Pornography, celebrity sex tapes, websites dedicated to adult content/explicit images, half-naked women in ads.
It can appear quickly and from the most unexpected places.
I was listening to music from Pandora's website once when a full-page ad of a half-dressed woman appeared as a new song started playing.
Pandora!? #nothelpful
That's enough to get the mind traveling down the wrong path. Before you know it, you're opening a new tab, visiting your go-to porn websites, and scouring the web for more. It's a scenario I've repeated, and I know countless others have experienced as well.
So how can we combat porn and visually explicit images coming at us from every direction?
[clickToTweet tweet="Why resist temptation tomorrow if you have the power to eliminate it today? ~@craiggroeschel" quote="Why resist temptation tomorrow if you have the power to eliminate it today? ~@craiggroeschel"]
In this blog post, I'm going to show you two free ways I've eliminated visual temptation today, so that I won't have to resist it tomorrow.
And I'll show you step-by-step how you can use them too!
Battle Temptation With Help From Friends
Dear reader, I'd like to introduce you to my very close friends: uBlock Origin and OpenDNS.
They're the type of friends that always have my back; supporting me in countless times of weakness or temptation. Always there to keep me from crossing the point of no return.
And they want to help you as well.
What's uBlock Origin?
It blocks 99% of the ads you'll find on websites.
Most of the time I'm browsing the web, I'm not intentionally looking for trouble. But risque ads have a way of derailing me fast.
So uBlock Origin is there to remove that temptation.
As an added bonus, it makes browsing the web infinitely cleaner and more pleasant. It'll even protect you from spammy pop-ups, malicious ads, and anything else shady the Internet might throw at you.
Everyone should install it. It's that good.
Check it out.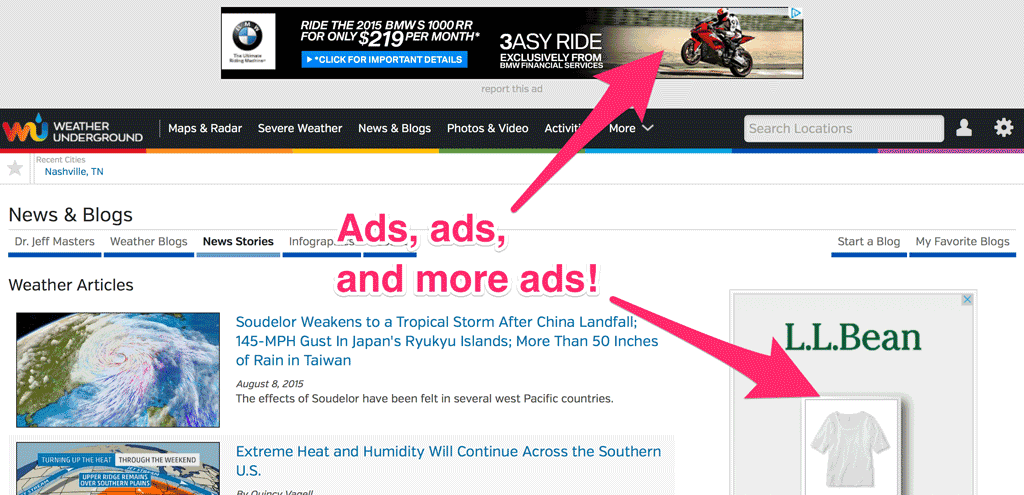 What's OpenDNS?
It's kind of a techie concept, so I'll just boil it down to what it does.
It's a content filter (like Net Nanny) that blocks porn websites, adult content, identity theft/fraud scams, etc. The neat thing is that protects all your devices at home (computers, laptops, smartphones) without the need to install it on each Internet-connected device.
Install it once and it protect every device.
It's free and simple to setup. Winner, winner, chicken dinner.
Where uBlock Origin prevents me from being tempted by ads, OpenDNS kicks in when temptation overtakes me. I'll get this when I try to visit a pornography or other adult themed website.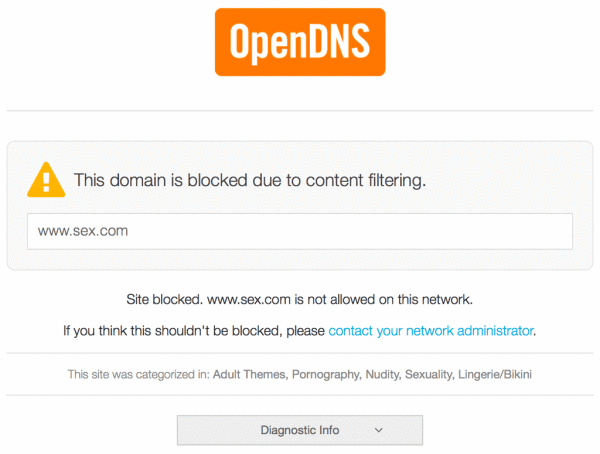 [clickToTweet tweet="These two things help me eliminate porn temptation today so I won't have to resist it tomorrow." quote="These two things help me eliminate porn temptation today so I won't have to resist it tomorrow."]
Here's how you can as well.
Installing uBlock Origin
Click on the link below that corresponds to the web browser you're currently using. It will take you to the uBlock Origin installation page for your browser.
Setting Up OpenDNS
There are two main content filtering services from OpenDNS.
OpenDNS Family Shield

Pre-configured to block all adult content

OpenDNS Home

Choose what categories to block (not just adult content)
Specify websites to always or never block
Really, really, really basic reporting of visited/blocked websites
This post will focus specifically on Family Shield because it's the easiest to setup.
Step 1
Answer the following questions:
Do I know where my router is?
Do I know what DNS servers are?
Have I ever logged into the admin area of my router?
If you answered yes to all of those questions then keep reading.
If you answered no to any of them then I would recommend you find a techie friend who can answer yes to those questions. Those are basic tech concepts, so it shouldn't be hard to find someone.
Or, if you're bold and adventurous, you can try it yourself.
I believe you can do it! :)
Step 2
Log into the admin area of your router.
Depending on your router, sometimes the login information (web address, username, password) is displayed on your router. Or if you're lucky, you can visit this page and see if there are specific instructions for your router.
Step 3
Once you've logged in, find where you can specify your own DNS servers. Again, if your router is listed, this page will be helpful.
Use the following DNS servers:
208.67.222.123
208.67.220.123
Be sure you save your changes.
Step 4
If you get a success message, then pat yourself on the back and call it a day. If you don't get a success message, reboot your computer and try again.
If that still doesn't work, unplug your router for 30 seconds and then plug it back in. Wait for it to reboot and try one more time.
Also double-check the DNS servers on your router were properly changed.
Caveats of OpenDNS
OpenDNS should be viewed as a secondary, not primary line of defense against porn or other adult content.
It will filter content for any device connected to your router. On the flip side, any computer or smartphone not connected to your router will not be protected.
For example, if your son takes his laptop to a friend's house. Not protected.
Or if you disable wi-fi on your smartphone and browse the web via cellular data. Not protected.
Your primary line of defense should be strong accountability relationships in addition to content filters like Net Nanny, X3watch, or Covenant Eyes installed on every Internet-connected device.
Despite being more of a backup content filter, OpenDNS is still worth setting up for the additional benefits I listed earlier. It's free and does provide an extra layer of security.
What are some other ways we can eliminate temptation today?
Photo courtesy of Beshef.