In the budgeting world, you won't go far without hearing about Dave Ramsey's EveryDollar. Being a long-time You Need a Budget (YNAB) user, I was curious to see how EveryDollar stacked up. Especially since EveryDollar has a free option.
Would EveryDollar be good enough to switch away from YNAB? Or at least worth recommending to friends who don't want to pay for YNAB?
I used YNAB and EveryDollar side-by-side for an entire month and focused on three areas I believe are important for any app wanting to help people get their money under control.
How easy is it to:
Create your first month's budget?
Add transactions from your smartphone?
Balance your budget at the end of the month?
This post shares what I learned and crowns a winner!
Note: Because YNAB is a subscription service, I'll be comparing YNAB to EveryDollar's subscription service (called Ramsey+) with a separate section for the free version.
Test drive YNAB free for 34 day. And #protip, you can email support requesting extra time if that's not long enough. They're typically very generous honoring those requests!
Note: If you sign up for a free trial using links in this post, I'll get a small commission. And please know I wrote this review before I knew I could earn a commission. It's genuinely my honest, unbiased experience using both apps.
Creating Your First Budget
EveryDollar
Creating a budget is a simple process in EveryDollar.
Once you create an account and log in, you'll immediately be taken through a step-by-step guide that walks you through budgeting some of the more common categories. Afterward, you can further refine your budget to get the "left to budget" amount to zero.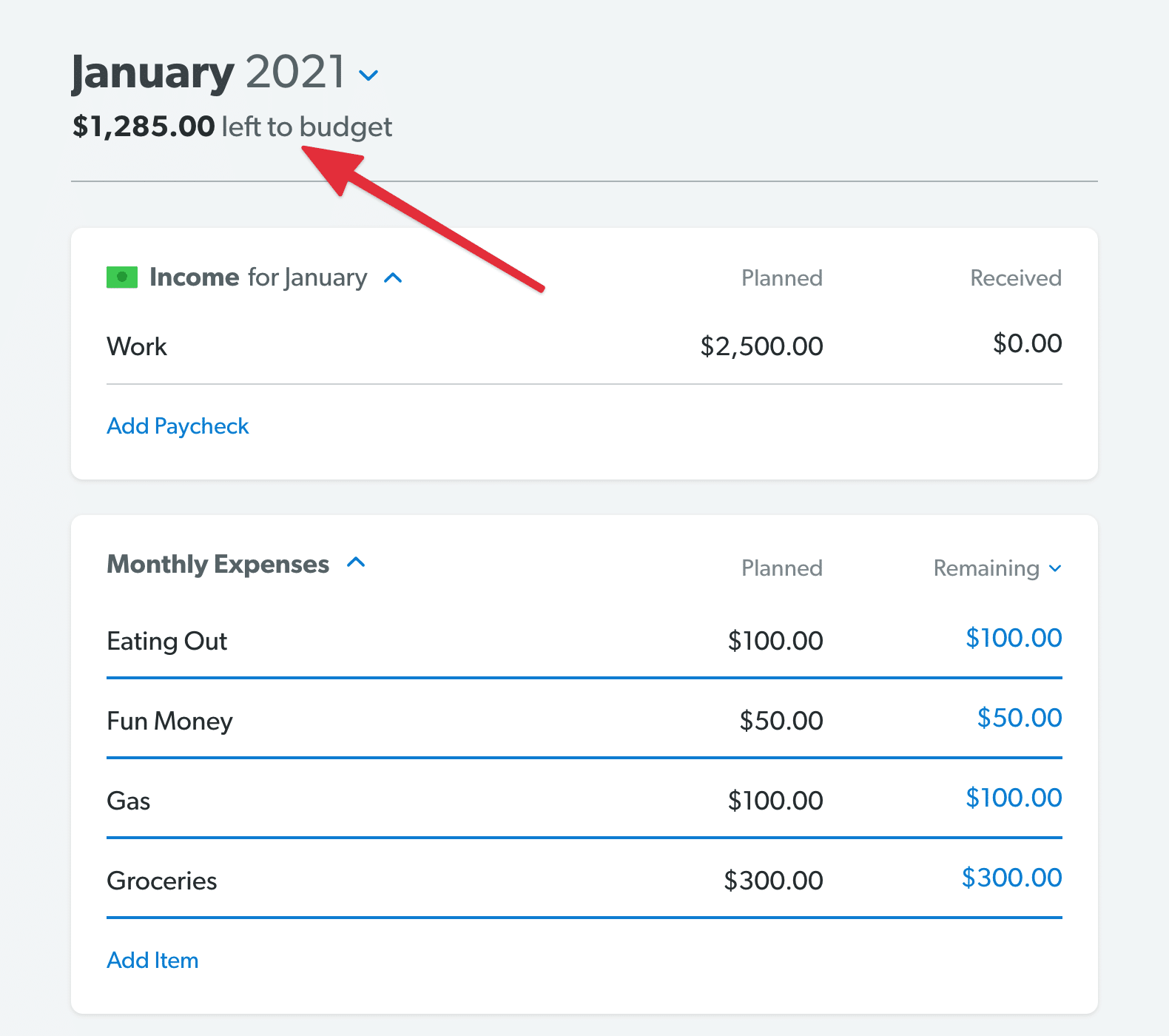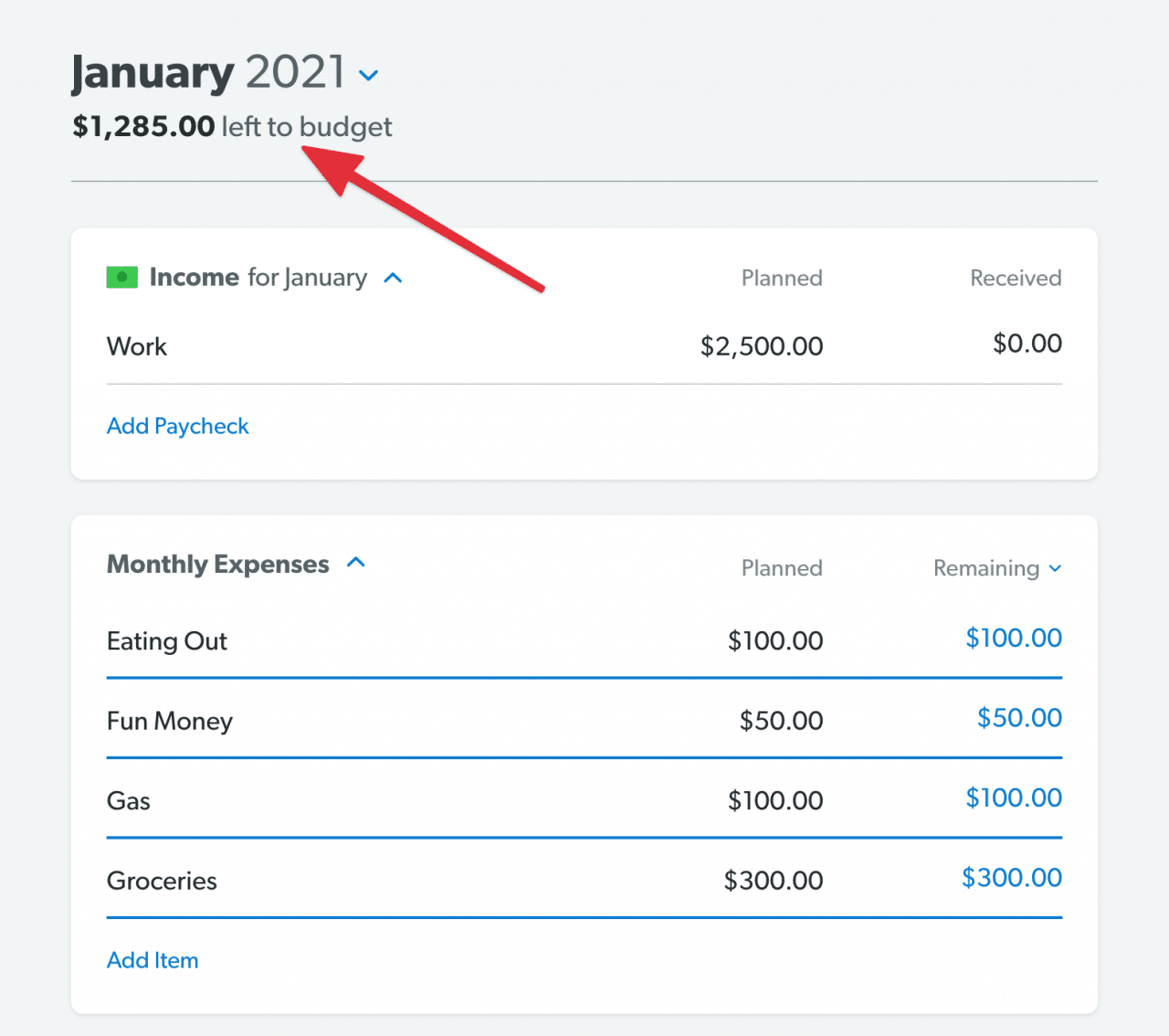 You Need a Budget
Once you log into YNAB for the first time, you're greeted with a getting started tutorial that's definitely worth going through. It'll walk you through adding your accounts (checking, saving, credit card, etc.) and their starting balances.
Similar to EveryDollar, you'll then distribute your money into the different categories until the "to be budgeted" amount reaches zero.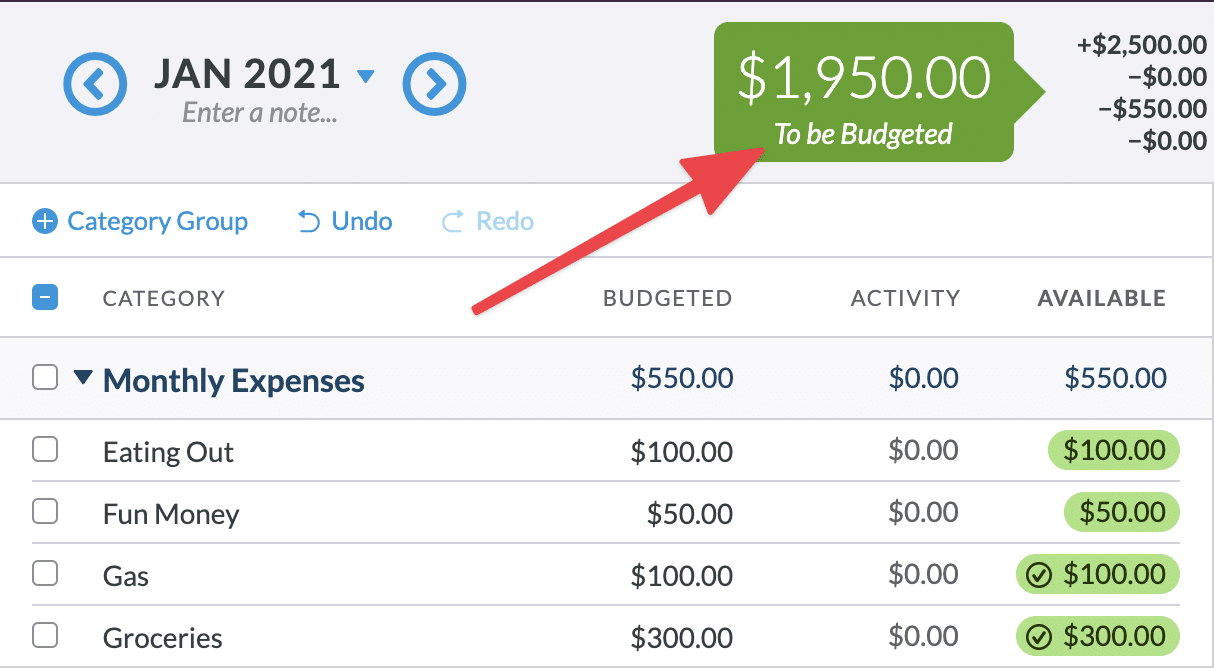 The big difference here is that instead of budgeting a single month based off your expected monthly income (like EveryDollar), your first budget is based off how much money you have combined across your checking and savings accounts. This is because YNAB encourages budgeting using only money that's actually in the bank (versus forecasting future income).
Winner: EveryDollar
There's no question here. EveryDollar is definitely a lot easier and quicker to get started with. When you get in the "cockpit" of EveryDollar, it'll feel familiar. Like most other budgeting apps out there.
However, getting into the cockpit of YNAB can feel a tad overwhelming. While YNAB's approach to budgeting, handling of credit cards, and other features (like goals and reconciling) are extremely helpful, there is a learning curve to fully understand how and why they're useful.
Adding Transactions
The best way to keep track of your budget is to add each transaction as they happen. That means the mobile apps for EveryDollar and YNAB are critical pieces to budgeting success.
The focus of this section will be on adding transactions on the iPhone.
EveryDollar (2020.11.30)
Just like creating your first budget, EveryDollar's iPhone app makes it straightforward to add a new transaction.
Nothing fancy here.
Type in an amount, type in the merchant name, and choose a budget category. After entering a transaction, you can scroll to the category to see how much money is left (making sure you've toggled the Remaining view).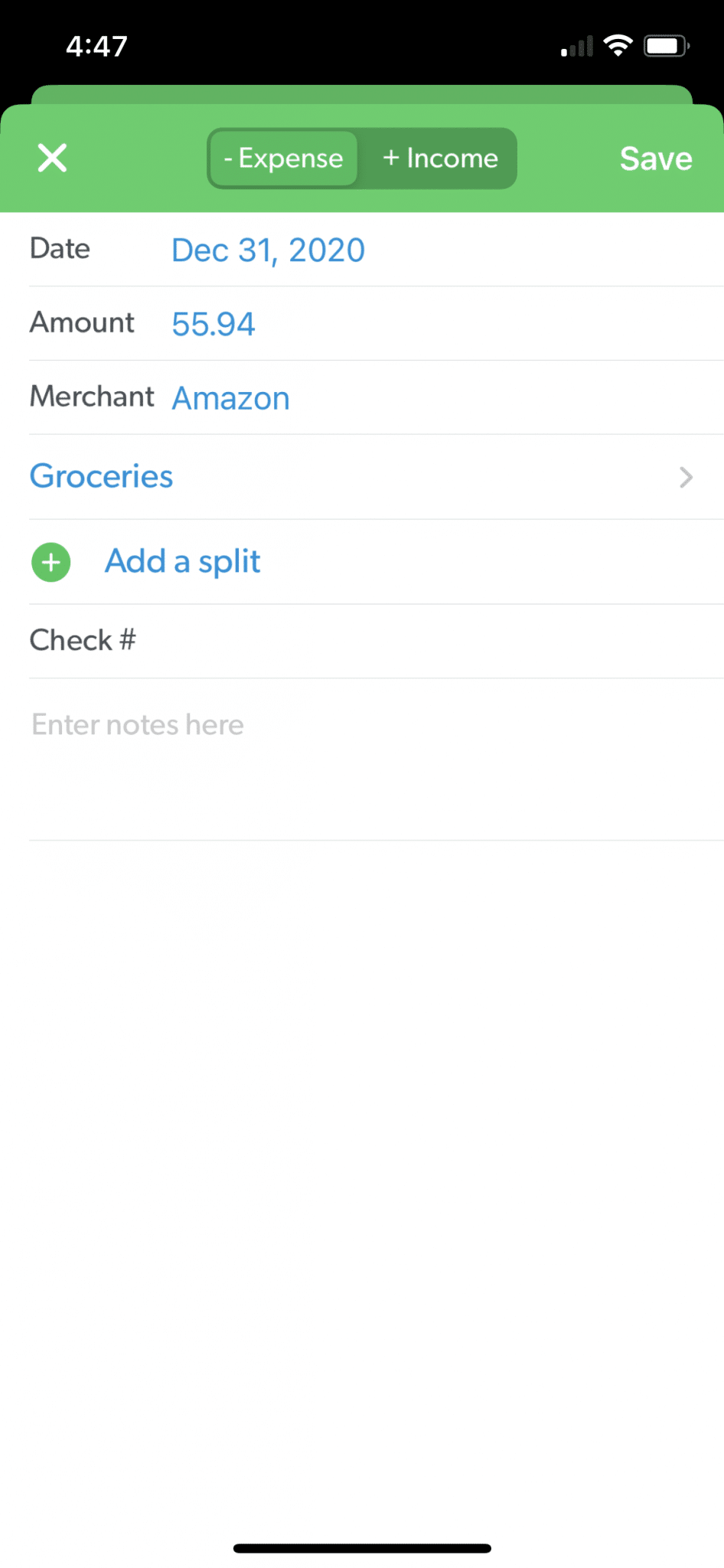 You Need a Budget (2.14.1)
Let me just go on the record here and say YNAB's iPhone app is gorgeous. It's obvious from the start a lot of care went into designing YNAB (and how you use it).
You'll type in the same things as you would in EveryDollar.
However, the strength of YNAB becomes more apparent when you re-visit a place you've already shopped.
More details later when I declare a winner for this section.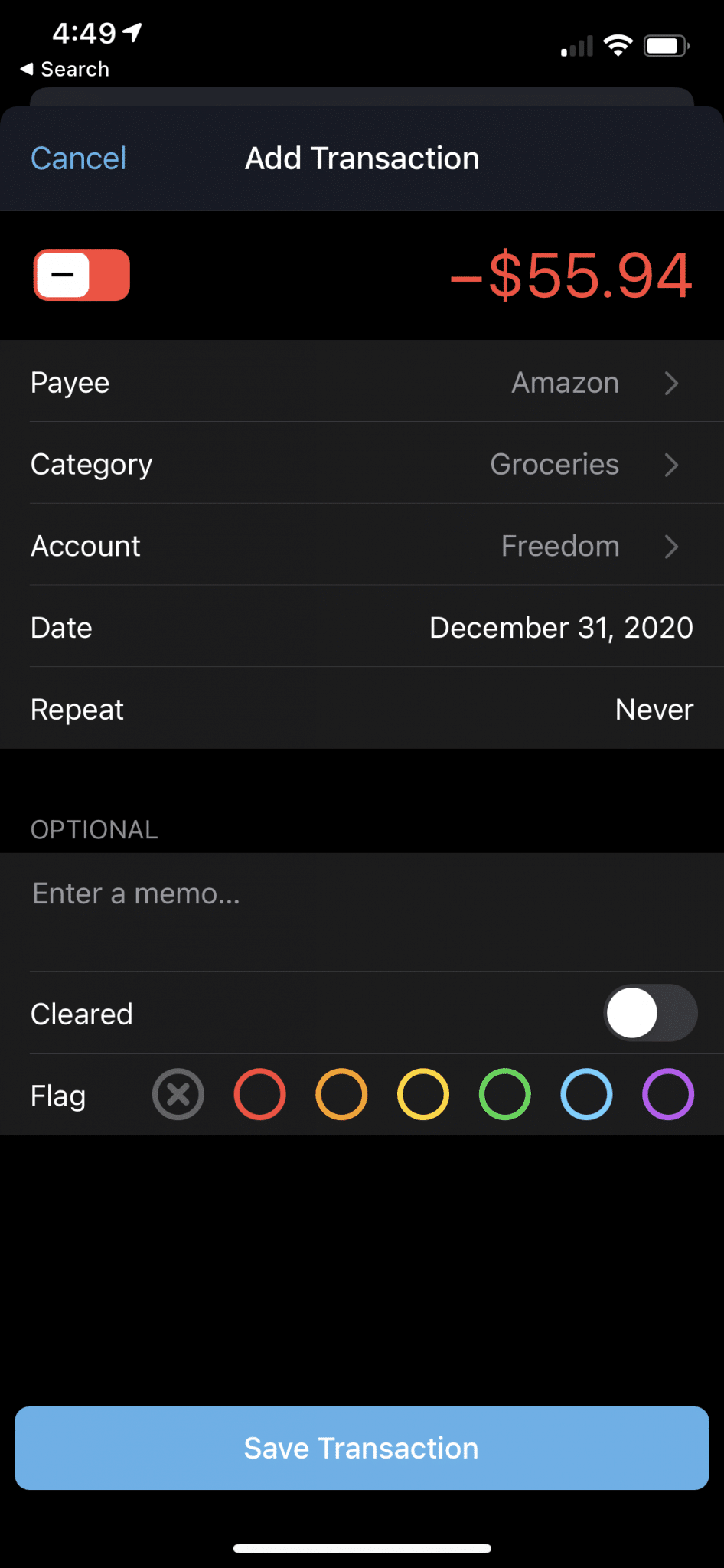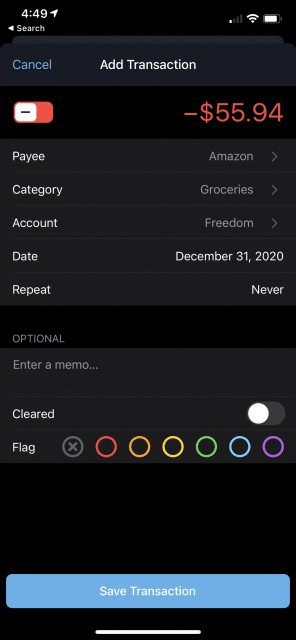 Winner: YNAB
There's two noteworthy features YNAB has that EveryDollar doesn't.
YNAB uses GPS to remember all the places you shop at.
YNAB uses default values whenever it can.
Both those things drastically speed up how quickly you can add a transaction.
The easier it is to use an app, the more likely you will be to use it. When it comes to staying on budget every month, this becomes an important point.
The second time you visit a store, YNAB will either pre-populate the payee with the store based on your location or show you a dropdown of nearby stores. YNAB will also default the category to the last one used for selected payee.
All this makes adding future transactions from previously visited spots a quick process.
On the flip side, EveryDollar makes you manually type out the store name (made somewhat quicker by predictive text) and choose a budget category every time you make a purchase.
Balancing Your Budget
I won't get into a rant here, but if you don't do this step regularly (at least once a month) then you're not really budgeting. You're just tracking your spending.
What does balancing your budget mean?
It means every budget category is at $0 or has a positive dollar amount before moving on to the next month's budget.
If you overspend by $50 in groceries this month, you take $50 from a different budget category (one that has an extra $50 to spare) and move it into the groceries category to compensate for the overspending.
It could also mean "sweeping" all your surplus (money you budgeted but didn't spend) into a specific saving goal or into more important categories.
Balancing your budget requires two things:
An easy way to move money from one category to another.
Confidence you've recorded every transaction for the month.
Now let's take a look at how EveryDollar and YNAB stack up.
EveryDollar
Moving Money
It only took EveryDollar a few years, but they finally implemented an easy way to move money between categories. (Unfortunately, this is in the subscription version only. This feature is removed in the free version. 😠)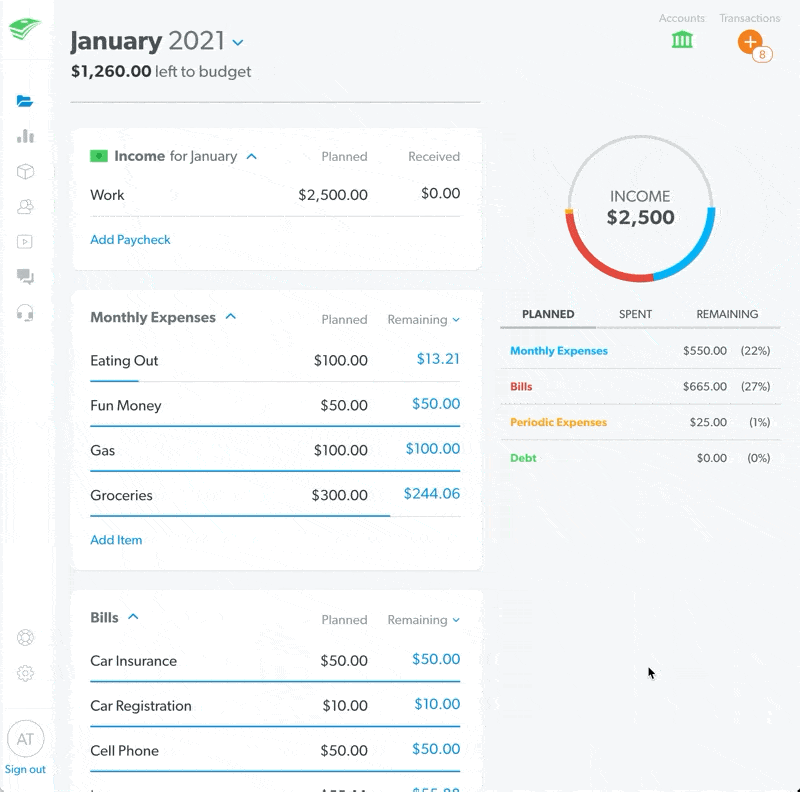 Reconciling Transactions
How about ensuring all my transactions have been added properly?
This was a nightmare.
I have a bunch of recurring transactions (rent, bills, subscription services, etc.) that happen without me physically paying for them (which is generally my reminder to add a transaction into my budgeting app). With EveryDollar, all of those have to be manually added every month because EveryDollar doesn't support automatically adding recurring transactions.
And I don't always remember to add transactions on my phone whenever they happen. So how do I know which transactions I forgot?
Lots of manual labor.
I had to look at statements from each bank account and check line-for-line if I entered the transaction into EveryDollar. And use a separate interim spreadsheet to track what transactions were in one spot (EveryDollar or my bank account) but not the other.
I wanted to gouge out my eyes. There's no easy way to do this.
You Need a Budget
Moving Money
Similar to EveryDollar, it's really simple to move money around.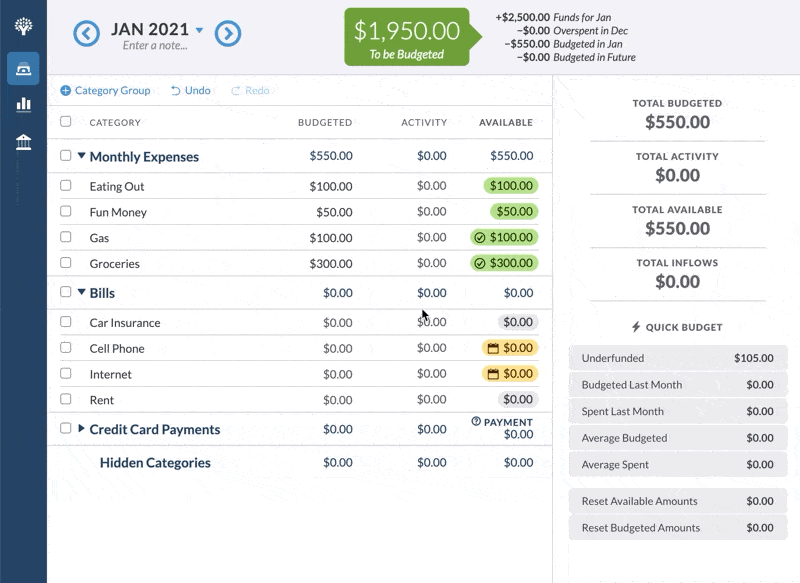 Reconciling Transactions
All things bad in this department for EveryDollar turned out to be all things good in YNAB.
You can have scheduled (recurring) transactions.


YNAB also provides an extremely useful reconciling feature to ensure all transactions from your banks are in YNAB (and vice versa).
If you've stayed on top of adding transactions when they happen and your YNAB balance matches your bank's balance, it's a two-click process.
If your balances don't match (maybe you forgot a transaction or two), YNAB gives you a simple way to add missing transactions until your balances match. To do this, you'll still need to cross-reference your bank statements but YNAB provides built-in tools that make it a much easier process than EveryDollar.
What took 20 minutes of frustration in EveryDollar took 2 minutes in YNAB.
Winner: YNAB
By a huge margin.
I didn't realize this was a deal breaking feature for me until the end of the month when I started balancing my budget.
For a budget to work, you have to be confident the numbers are right. Otherwise you may be spending money you don't actually have.
Without a way to reconcile balances in EveryDollar, the process of checking for accuracy becomes a painstakingly slow and error-prone process.
Budgeting already requires a good amount of discipline. Make that process harder and you drastically reduce a person's desire to keep up with it.
This is where YNAB clearly shines. It's extremely easy to balance your budget each month.
I look forward to payday because YNAB makes budgeting a fun process.
Conclusion
YNAB is the clear winner here.
Once you get over the initial learning curve, it's easier to use and stay on top of your budget. There's a ton of resources including an active community and an incredibly helpful (albeit unofficial) Facebook group.
I would wholeheartedly recommend YNAB to anyone serious about getting their money under control.
I like to think YNAB helps you master of your money. You tell it what to do instead of the other way around. And by being in full control of what your money's doing, you hit your financial goals much faster.
Ready to give YNAB a try?
YNAB's offering a free 34-day trial. If you have any questions, let me know in the comments!
Also note, college students get their first year free!
Unfortunately, I can't in good conscience recommend EveryDollar when it's more expensive and is not nearly as good for budgeting as YNAB.
While EveryDollar might be a lot faster to get your first month's budget set up, it doesn't provide useful features/tools to keep the budget going strong over time. And that's where you absolutely need a budgeting app to excel in.
And EveryDollar (the subscription version) encourages bad habits.
One of the most critical habits I've discovered to successful budgeting is adding transactions as soon as they happen. This keeps you more in tune with your spending and budget category amounts.
EveryDollar doesn't automatically match existing transactions with automatically imported ones. That means if I add a transaction today, a day or two later when that transaction gets auto imported, I have to delete the imported transaction since the manually added transaction is already in my budget. If I don't delete one of the transactions, my budget inaccurately gets hit twice.
And because EveryDollar doesn't have reconciliation features, chances are these duplicate transactions will go unnoticed.
The solution to all this is to never add transactions as they happen and just rely on auto import which to me is not helpful and makes your category numbers 1-2 days delayed (waiting for transactions to import).
YNAB on the other hand will automatically match two transactions it believes are the same, making that process seamless.
That's just one of many little things YNAB does so much better than EveryDollar. And why in terms of value, YNAB provides the better budgeting app for less than Ramsey+ (what gives you access to EveryDollar's premium features).
If you pay month-to-month, YNAB is currently $11.99/month. If you pay for a year upfront, it's $84/year.
Ramsey+ is $59.99 if renewed every three months, $99.99 every six months, or $129.99 every year.
It's worthy noting you get access to additional content with Ramsey+.
Ramsey+ is an all-access membership to our best money tools, apps and content. With Ramsey+ you'll discover how to take complete control of your money—and get the tools you need to make it happen. Your membership includes access to our online courses, including Financial Peace University, the premium version of EveryDollar, the BabySteps app, PLUS so much more.
The bottom line: YNAB is the the best budgeting app out there. And second place isn't even close.
Once you get used to its budgeting methodology and the app, YNAB will literally change your life. It's not an exaggeration. I've seen it happen in my own life, friends' lives, and countless people in the YNAB Fans Facebook group.
What budgeting tool do you use? What do you like about it?